With such a huge variety of activities and attractions to keep the kids (and the grown-ups) occupied, a visit to Yorkshire will leave you wanting more. So whether you're visiting with family, a friend, or your loved one, you'll never be short of something to see and do!


From scenic seaside resorts and mouth watering Michelin-starred restaurants, to wonderful walking routes and satisfying shopping spots, here's 6 things we recommend that you do if you're planning a trip to glorious Yorkshire: 
1. WALKS, WALKS AND MORE WALKS
Lovers of the Great Outdoors are spoilt for choice as wild and beautiful scenery is abundant in Yorkshire. The North Yorkshire Moors National Park is spectacular and offers endless opportunities for people who enjoy walking, cycling and horse-riding. However, it's also home to some sites of historic interest, such as Robin Hood's Bay, Runswick Bay, Ravenscar and more.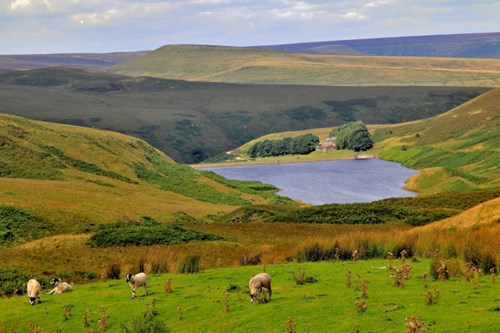 Enjoy natural beauty, culture and heritage at the North Yorkshire Moors National Park. 
2. GO AND BE BESIDE THE SEASIDE
Yorkshire's 45-mile stretch of coastline includes picturesque maritime towns, traditional seaside resorts and quaint fishing villages, all against a beautiful backdrop of the North York Moors and Wolds. Scarborough offers glorious sandy beaches, donkey rides, rock shops, and the best fish and chips you'll find for miles! For a brisk walk along the coast, head to Bridlington Beach (South Beach) or Flamborough Head - both provide a perfect spot to get some steps in, before enjoying a peaceful picnic. Don't forget to visit Whitby's delightful streets, brimming with unique, chic stores, award-winning seafood restaurants and more.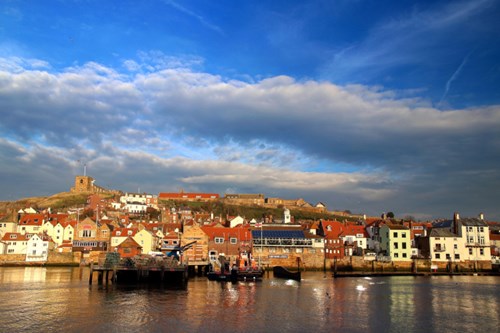 Explore the county's best fish and chips, quaint streets and Whitby Abbey at the traditional seaside town of Whitby. 



3. DISCOVER BUSTLING MARKET TOWNS
The gem of East Yorkshire, Beverley flaunts a fantastic combination of modernity and tradition; cobbles, courtyards and a magnificent minster are contrasted by chic boutiques and impressive restaurants. Over in Malton, local produce reigns supreme, and teamed with its friendly, bustling atmosphere, it's the perfect destination for a foodies who want a fun-filled day out.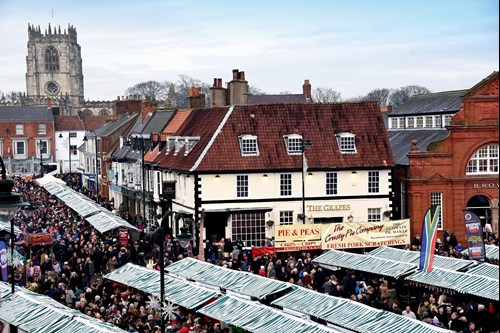 Pick up some fabulous goodies at the marvellous market in Beverley.
4. EXPERIENCE THE CITYSCAPES
You can explore the boutique shopping on offer in The Shambles or take a stroll down the UK's narrowest street, Whip-Ma-Whop-Ma-Gate, or brave the stairs in York Minster and gain an unparalleled view of the city and the surrounding countryside. A trip to Leeds is ideal if you're planning on a shopping spree and lots of tasty cocktails! Harrogate is the best choice for those wanting a more up-market experience; the spa town features an array of antique shops, jewellers and fashion boutiques, as well some gorgeous gardens and parks.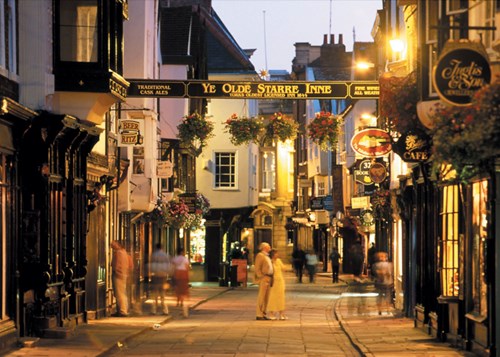 Look for gifts for loved ones or unusual souvenirs at York's Shambles. 
5. TAKE ADVANTAGE OF THE WATER SPORTS AND CLIMBING OPPORTUNITIES
A view of Brimham Rocks on Brimham Moor, North Yorkshire offers a lot to couples that fancy something a little more extreme. Its coastline, rivers and canals make it paradise for fans of water sports, while crags such as those at Malham and Brimham mean it's a haven for climbers. There are also opportunities to take to the air all over the county, so whether it's a flying lesson, a paragliding session or a skydive from 5000 feet you fancy, in Yorkshire you will find the ideal activity for you and your partner. If only one of you is an adventurer, there are plenty of pubs and tea shops to relax in while the other enjoys the adrenaline fix they have been craving!
6. STAY IN A LUXURY HOLIDAY COTTAGE
From luxury holiday cottages by the coast to family-friendly barns in the countryside, and romantic boltholes near characterful market towns, there's luxury accommodation to suit all in Yorkshire. Holiday homes in Yorkshire offer an unmatchable combination of dramatic coastline, idyllic countryside, and historic villages and towns all around. Two of Yorkshire's National Parks take up a generous amount of the country - The Yorkshire Dales is home to some of the regions most breathtaking scenery from spectacular waterfalls and rivers to gentle rolling hills, making the area perfect for a family adventure holiday, or a calmer, walking holiday. You can also discover the delights of the North York Moors, one of the largest expanses of heather moorland in the UK - popular with walkers as well as cyclists all year round.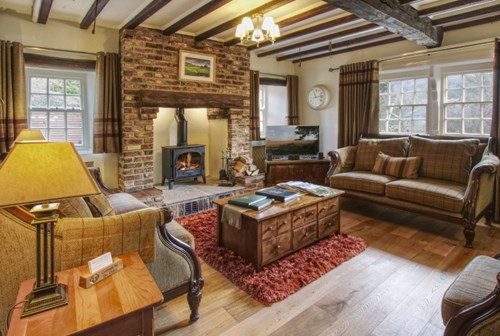 Hunker down in front of a cosy real fire after a day spent exploring the delights of Yorkshire. Photo of Cottage in the Dales.
In Yorkshire, there's something for everyone. Whether you're looking for a place to visit during a romantic weekend or another venture to add to your adventure-filled holiday, you can rest assured that you'll find it in 'God's Own County'. 
Premier Cottages has a variety of luxury holiday homes in Yorkshire, which you can view here. 
If you've been inspired to treat the family to a fun-filled week in Yorkshire, take a look at our range of family-friendly cottages.
Or if you have decided to whisk your loved one away for a romantic weekend, we have a wonderful range of romantic boltholes for two.