Next Post
Norfolk has a huge variety of wonderful gardens – ranging from the tiniest cottage gardens, to those spectacular formal stately home gardens and tranquil water gardens. Norfolk is the combined warmest and driest county in the UK, yet this is also the home of Britain's Magical Waterland of the Norfolk Broads, so there are an amazing variety of soils, micro-climates and coastal areas – yet there is a garden here for all seasons. Here are some of our absolute favourites – many of which are open all year round – Norfolk is never closed!
EAST RUSTON OLD VICARAGE GARDENS
Probably one of the county's best kept secrets, this is a garden that was literally created from nothing and is now not one, but a collection of gardens within. Here you will find a Rose Garden, Exotic Garden, Desert Wash, Mediterranean Garden, Woodland Garden, Tree Fern Garden and many more.  It is a private garden that is open to the public and the very knowledgeable Alan Gray who created it, will often give tours and talks about his passion for this amazing place. He is a regular on Radio Norfolk giving his extensive tips and help for all those who love gardens. There is also a tea room on site where you can sit and enjoy an afternoon cream tea in the delightful surroundings – and a shop so you buy some plants for your own garden. www.e-ruston-oldvicaragegardens.co.uk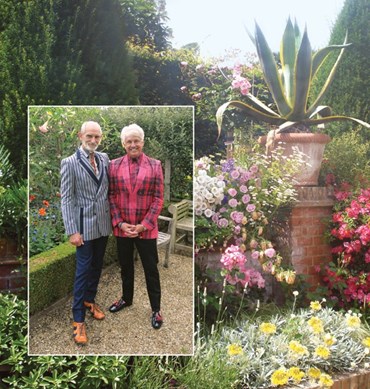 East Ruston Old Vicarage Gardens (photo courtesy of East Ruston Old Vicarage Gardens)
FAIRHAVEN WOODLAND AND WATER GARDEN
Here you will find a wildlife garden thriving in ancient woodland, tucked away in Britain's Magical Waterland, the Broads National Park. There are 130 acres of cultivated, wild and natural plantings and nearly 4 miles of woodland pathways taking you through peaceful walkways and nature at its best. There is also a private broad within the site, where you can take a relaxing trip down the river past the historic ruins of St. Benet's Abbey, see the wildlife on the water and a few sailing boats too. Boat trips run daily from April to October. There is also a cafe and plant shop on site. www.fairhavengarden.co.uk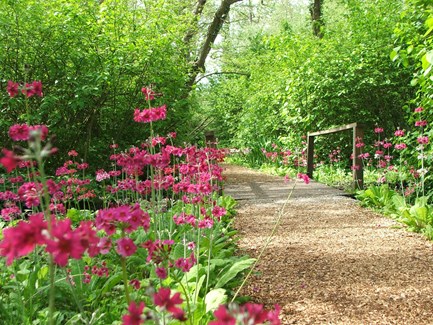 Fairhaven Woodland and Water Garden (photo courtesy of Fairhaven Woodland and Water Garden)
STODY LODGE GARDENS
Every May there is a hidden gem to discover in the Norfolk countryside and that is the spectacular rhododendron and azalea gardens at Stody Lodge. Originally part of the Blickling Estate, these gardens have been lovingly added to over many years by enthusiastic owners who were garden lovers and now everyone can enjoy their legacy. The beautiful water garden is a haven of tranquillity with the vibrant colours reflecting in the still waters creating a captivating vista. Walk through the avenues of rhododendrons, azaleas, camellias, magnolias and acers to find a magnificent lawn in front of the house, surrounded by herbaceous borders. There are refreshments and as you leave you can buy plants at very reasonable prices too (and they are very good strong plants, we have some in our garden!)  www.stodyestate.co.uk/stody-lodge-gardens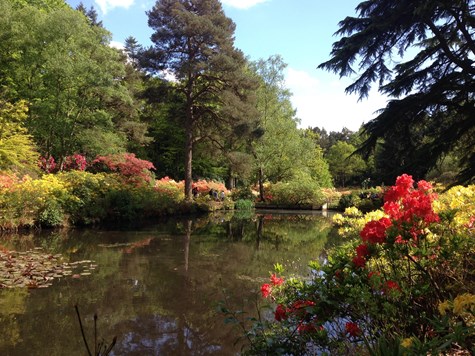 Azalea Water Gardens at Stody Lodge Gardens
THE PLANTATION GARDEN
This truly is a "secret garden" set in the heart of medieval Norwich. In fact, there will be many people living in Norwich and Norfolk who may not even know of this little gem of a garden tucked out of sight not far from the bustling shopping streets nearby.  Be prepared to be amazed at these 3 acres that feature a Gothic fountain, flowers, lawns, an Italianate terrace, summer house and more. The Plantation Garden is a Grade II English Heritage registered garden dating back to 1856 and lovingly restored by the Plantation Garden Preservation Trust. The garden is open every day throughout the year -a definite must while visiting Norwich. www.plantationgarden.co.uk/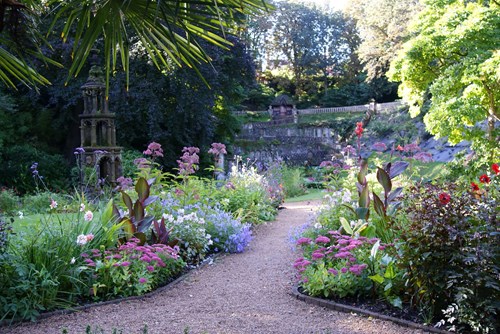 The Plantation Garden (photo courtesy of Visit Norfolk)
BLICKLING HALL
We have some amazing National Trust properties in Norfolk with their stunning gardens – all very different – and one of them is Blickling Hall, the birthplace of Anne Boleyn. There is something for everyone here all year round with 55 acres of topiary, immaculate sweeping lawns, herbaceous borders, a temple, lake, parterre and astonishing wisteria. The garden, 950 acres of woodland and parkland - are perfect for cyclists, walkers, runners and adapted wheelchair users as there are different trails of varying lengths. On site are also 3 cafes, second hand bookshop, plant sales, shop, Tours of the Hall – oh and did we mention there's a great pub there too, the Buckinghamshire Arms. www.nationaltrust.org.uk/blickling-estate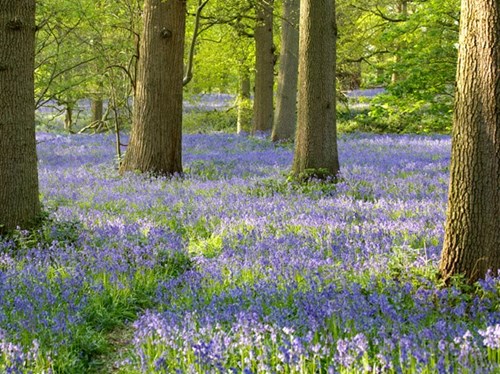 Bluebells on the Blickling Estate (photo courtesy of Visit Norfolk)
PRIORY MAZE AND GARDENS
There has to be a maze for a fun time in a garden and the Priory Maze and Gardens has Norfolk's only traditional hedge maze in one of the most natural enchanting gardens in the county.  Set within 10 acres, consisting of various themed gardens, the hedge maze is based on the ruins of the adjacent Beeston Priory.  You can also enjoy the Woodland Garden, or sit on a bench and take in the sound of the babbling of gentle waterfalls through the meadow stream garden. There is also a plant centre, gift cabin and cafe. www.priorymazegardens.co.uk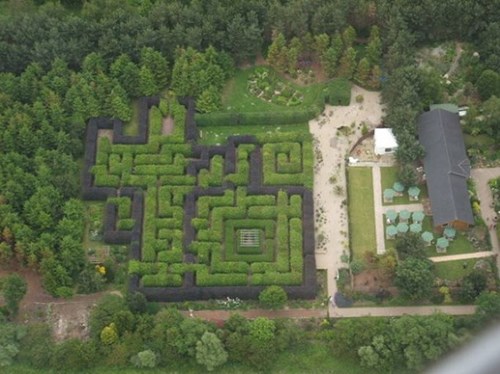 Priory Maze and Gardens (photo courtesy of Visit Norfolk)
There are so many gardens in Norfolk that we have handpicked a selection for you, but there are many more of all shapes, sizes and interest to explore – we hope you enjoy them.
You can view all of our properties in Norfolk by clicking here.