Think of Cornwall, and many people automatically think of the surfing beaches of the North coast, or the beautiful Journey's End of the Lizard Peninsula.  South East Cornwall is the forgotten corner of the county, but has much to recommend it, with beautiful tidal creeks, pretty fishing villages, and the dramatic scenery of the moors. Fewer holidaymakers also means quieter beaches and landscape - you can often walk for miles in fabulous scenery and barely meet a soul - making South East Cornwall the perfect destination for a dog-friendly cottage break. 
We are spoilt for choice around here, but I've listed 10 cracking walks below, with great views.  I've given you the postcode for SatNav, so everywhere is easy to find (unless, of course, you don't have SatNav …).  Some of these are accessible (so good for wheelchairs or buggies) and have accessible facilities.  There are access notes where applicable below.  This is obviously not an exhaustive list, just a few of our local favourites.  For more choice, there are some great apps with downloadable walks which you may find useful.  Firstly the Walk Finder on the South West Coast Path's website www.southwestcoastpath.org.uk, which is a free resource, and covers all 630 miles of the Coast Path.  The app grades walks by difficulty, so can be useful if you are using a buggy or wheelchair.  Secondly IWalkCornwall, which has over 230 walks all over Cornwall - www.iwalkcornwall.co.uk/
Churchtown Farm Nature Reserve
The nature reserve covers 61 hectares at the confluence of the Lynher and Tamar rivers, offering stunning views up river towards Antony Passage and Forder Creek, and down towards Devonport and Plymouth.  You rarely meet more than one or two other walkers, and there is access onto the beach in several locations.  There is a handsome Brunel viaduct, and views of Trematon Castle.  Plenty of photo opportunities here, both for the wildlife, and the landscape value (it sits within the Tamar Valley AONB).  Beware ground nesting birds in some parts of the reserve at certain times of year, when dogs would need to be kept on a lead in that particular area, but these areas are clearly signposted.  www.churchtownfarm.saltash.website/Home/Experience
Access – not suitable for wheelchairs or buggies due to the nature of the terrain and presence of stiles.  There are no facilities at Churchtown Farm.
Parking – free in the layby opposite the entrance gate.  SN - PL12 4AS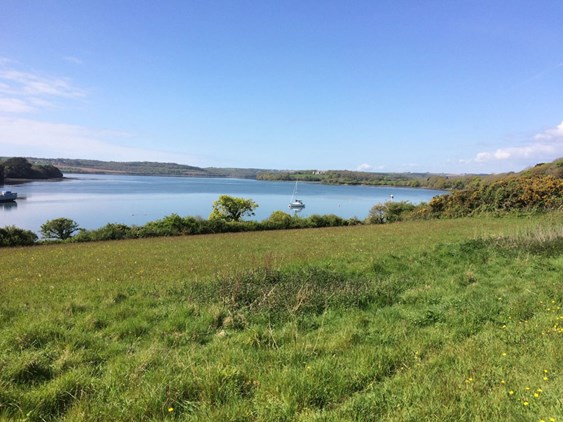 Photo of Churchtown Nature Reserve – Beth Bailey
Cotehele to Calstock
There are plenty of lovely walks at Cotehele, with glorious views of the river Tamar.   The river is tidal here - quieter, wider and more placid as it gets towards the estuary, gently sculpting the landscape in wide, lazy loops.  Park at the Cotehele Quay car park and take the footpath to the right, which climbs gently around the contours of the river to a viewing point.  From here, you get a first glimpse of the elegant Calstock Viaduct, which is the largest viaduct in Britain to be built entirely of concrete blocks, and which is also notable for its slender proportions.  Calstock itself has a slightly bohemian vibe, and is a well-known centre for arts and music. There are a couple of pubs here, and also the delightfully quirky (and dog-friendly) Lishe teashop-come-cafe, where you can indulge in some delicious homemade soups, bread and cakes. Back at Cotehele Quay, you can indulge in a Cornish cream tea (jam first, of course!!) at the Edgcumbe.  Settle in by the fire with the dog curled at your feet on a blustery day (the Edgcumbe is dog-friendly), or sit outside and enjoy the view of The Shamrock in the sunshine.
Access – there are accessible loos at Cotehele Quay, but the walk itself is steep in parts, and not suitable for wheelchairs.
Parking – £3 per day, or free to NT members at Cotehele Quay car park.  SN PL12 6TA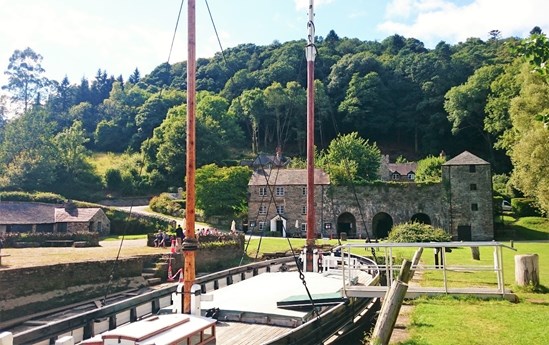 Photo of Cotehele Quay – Beth Bailey
Kit Hill
Kit Hill – now a 400-acre nature park - was donated by Prince Charles (Duke of Cornwall) to the people of Cornwall to celebrate the birth of Prince William.  It is the highest point in the Tamar Valley AONB, and from the summit you get spectacular 360-degree views towards Plymouth Sound in the South, Bodmin to the West, Dartmoor to the East and on a clear day all the way to the North coast.  Follow the path to the north, and you will end up at the quarry, which still has worked dressed granite lying around (the quarry provided the granite for more than one of the main bridges across the Thames in London, and was still being worked until the 1950s).  It is also a popular swimming spot for wild swimmers (beware though, it is very deep – rumoured to be 45m – and the water is very cold – ice swimmers train here, as it is colder than the sea -  so not one for small children or the inexperienced).  If you're feeling peckish, and the weather's nice (no dogs inside, but welcome outside) then stop off at Louis' Tea Rooms on the way down and admire the view from there too.
Parking – free at the summit car park.  SN - PL17 8AX

Photo of Kit Hill Summit – Beth Bailey
Maker Church to Kingsand
This is a glorious walk of about an hour and a half (ex stops) on the Rame Peninsula, which is surrounded on three sides by water.  From the top, near Maker Church, you get sweeping views up the Tamar estuary towards Devonport and Torpoint.  Drop down through the deer park onto the South West Coast Path and you get views towards Plymouth.  There are woods flanking the inland edge of the path which are resplendent with swathes of bluebells in May.  Following the path round, you come to the pretty twin fishing villages of Kingsand and Cawsand, nestling in the crook of the peninsula.  The clear blue waters of this sheltered cove make it a popular swimming spot.  If you take the footpath up the hill out of the village (it is quite steep, this part, so you may need to stop and admire the view a couple of times!), make tracks for The Canteen at Maker Heights www.facebook.com/makercanteen, which is quirkily housed in a series of Nissen huts, and serves fabulous food (dogs very welcome outside, but not in, so pick a sunny day and enjoy the fantastic views!).
Parking – there is an honesty box (their other car parks are £1) in the Maker Church car park.  SN - PL10 1JB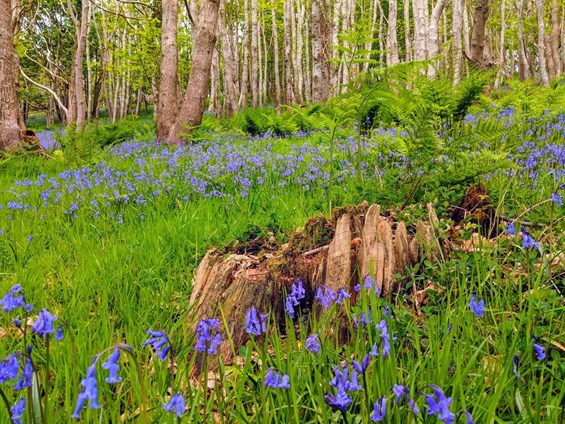 Bluebells on the South West Coast Path – Beth Bailey
Tamar Trails
This isn't strictly speaking South East Cornwall, as you do have to stray over to the Dark Side (Devon!) – it is just over the River Tamar.  However, if you are looking for a cool walk for your hot dog on a sunny day, then it is well worth the (short) excursion, as the forest canopy provides welcome shelter.  Tamar Trails www.tamartrails.co.uk/  is in a designated Area of Outstanding Natural Beauty and forms part of the Cornwall & West Devon Mining Landscape World Heritage Site. There are 25km of graded trails, ideal for walking or cycling, and if that seems a bit too tame then you can also go treesurfing, canoeing and do archery here (booking recommended for those activities).  The trails are dotted with interesting mining heritage – old engine houses and mine workings.  They have several accessible trails, and also have a Tramper for hire (Trampers are an all-terrain mobility scooter – fantastic for allowing less mobile family members to join in the fun).  There is also a café close to the car park.
Access – there is Tramper hire at Tamar Trails, and some of the trails are accessible. The Café has accessible loos.
Parking – £1 for 2 hours in the car park. SN - PL19 8JE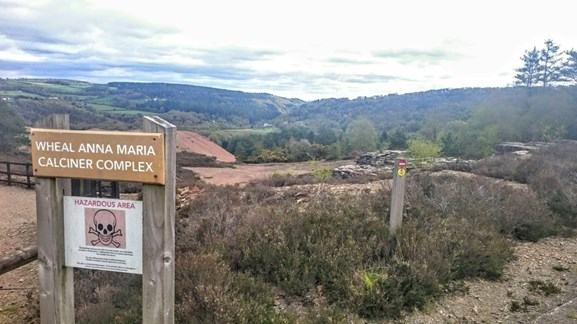 Photo of Tamar Trails – Beth Bailey
Whitsand Bay
This is definitely a favourite beach.  While there are no facilities down on the beach (no loos or cafes), and there is a slightly steep path to get down (bear this in mind if you have little people who will need carrying back up at the end of the day!), you are rewarded with 4 miles of golden sand pretty much to yourself.  The beach is dog-friendly all year round.  Make sure you check the tide timetables when planning your visit, as it is possible to get cut off when the tide comes in.  There is an army shooting range over the beach at Tregantle, so if you see the red warning flags flying, the beach access will be closed.  All that walking probably means you've earned a treat, so reward yourself by having lunch at The View www.theview-restaurant.co.uk/ where the food is amazing (sadly not dog-friendly inside, but on a sunny day you can eat on the terrace, which has magnificent views over Whitsand Bay).  
Access – steep(ish) path with steps in parts from the road down to the beach, and no facilities.
Parking – free if you park in the layby at Tregantle Fort - PL11 3AZ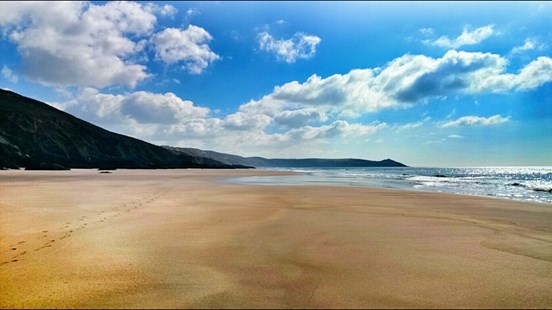 Photo of Whitsand Bay – Beth Bailey
Bodmin/Minions
Breathtaking views and ancient history in one neat package.  Just outside the village of Minions, there are three Neolithic standing stone circles.  These are The Hurlers, so-called because legend has it they were village men turned to stone for playing hurling on the Sabbath.  Close by is Rillaton Burrow – a very large early bronze age burial barrow.  About a mile away you will find the famous Cheesewring, which has stunning views over South East Cornwall and into Devon.  The area is part of the Cornish Mining World Heritage Site, and the moor carries the reminders of its mining past, in the shape of abandoned engine houses, one of which houses the Heritage Centre.
Parking – free car park PL14 5LL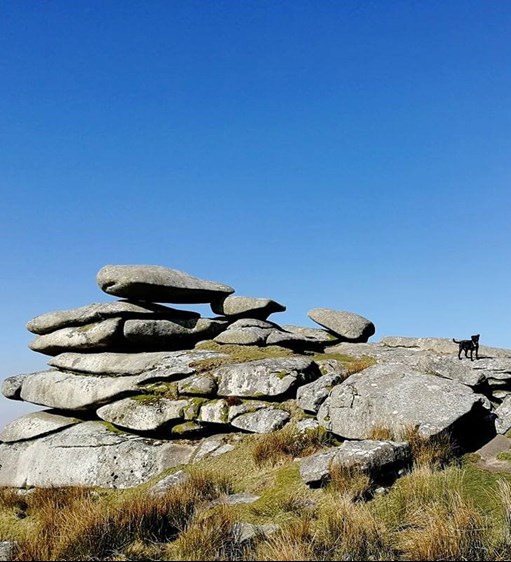 Photo by Tanya Taylor
Siblyback
Part of the South West Lakes Trust, Siblyback is a popular watersports centre on top of Bodmin Moor, with wonderful views and an abundance of bird life.  The walk is about 3 miles of graded track around the  perimeter of the lake, making it easily accessible for buggies and bicycles (bike hire available).  The Rockhopper Café is close to the car park if you need a refresher after your walk.  If you want a longer walk, then you can carry on to Golitha Falls, which is a spectacular set of cascades of the River Fowey through a steep-sided valley gorge.
Access – Tramper hire is available, and they also have a self-drive wheelyboat (wheelchair-accessible boar).  There is designated accessible parking and there are accessible loos at the Centre.
Parking – is chargeable.  Use PL14 6ER for Siblyback Lake car park, and PL14 6RU for Golitha Falls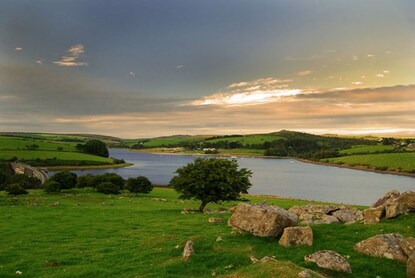 Photo of Siblyback – Sue Rowlands
Rame Head
This is another cheat really, as the Rame Peninsula isn't one walk, but many.  Known as Cornwall's Forgotten Corner, the Rame Peninsula has a fabulous wealth of scenery and natural interest (which has gained it AONB status) as well as being of historical importance (the Rame forts form the western part of the most extensive and complete historic coastal defences in the UK, dating back to the 16th Century).  The Peninsula is bounded on three sides by water - on the southerly side you have the English Channel; to the east lies Plymouth Sound, and the northernmost parts run along the confluence of the Lynher and Tamar rivers.  The South West Coast Path contours the peninsula, providing wonderful vistas over the great sweep of Whitsand Bay and giving access to the picturesque villages of Kingsand, Cawsand, Antony Cremyll, and Millbrook (among others) on its more sheltered aspects.  Everywhere on the peninsula has lovely walks and an abundance of wildlife, flora, and history. 
Parking – for the Chapel Walk, park at PL10 1LH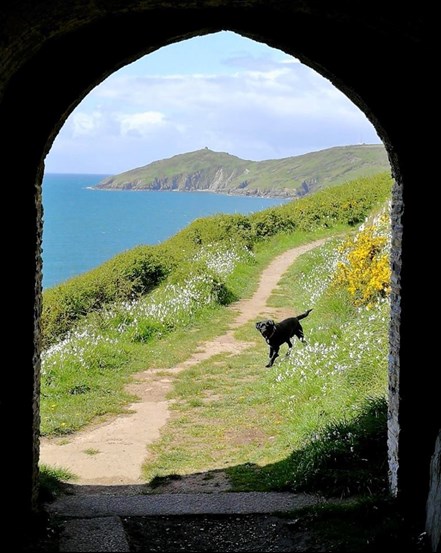 Photo of Rame Head Chapel – Tanya Taylor
Cardinham
There is loads of space here, with 650 acres of mixed woodland to explore.  There are four walking trails at Cardinham www.forestry.gov.uk/cardinham , all of which are dog-friendly.  One is easy (suitable for wheelchairs and buggies), two are moderate, and one is designated "hard", up to the old Wheal Glynn lead and silver mine.  There is usually a special marked trail to keep the little people engaged (currently a Highway Rat trail, when you need to keep a look out for various clues), and a rather fabulous café – the Cardinham Woods Café – where you can make up all those calories you lost walking the trails.
Access – Designated disabled parking (payable).  The Lady Vale Walk is accessible to wheelchairs and buggies.  The car park has accessible loos.  The Café loos are not accessible (but the car park is close by).
Parking - £2 for 2 hours, or £5 all day - PL30 4A.
Premier Cottages has a number of dog-friendly luxury holiday cottages in South East Cornwall, which are the perfect base for exploring this wonderful part of the county.
All words by Beth Bailey of Kernock Cottages, Pillaton, Cornwall. You can view all of our properties in Cornwall by clicking here.