Staying in a Peak District Premier Cottage provides an unexpected gastronomic opportunity…
You can't get further from the sea in Great Britain, and it's not exactly celebrated for its scorching summers, but the Peak District is steadily building an enviable reputation as a hub of gelato excellence. 
Spanning the central counties of Derbyshire, Staffordshire, Cheshire and South Yorkshire, this green heart of England is home to the country's oldest National Park and enjoys a stunning variety of spectacular scenery. From your holiday cottage, take the time to explore the country lanes, tracks and paths and then reward yourself with a cool lick of pure pleasure.
TAGG LANE DAIRY
Does it get any creamier than this – ice cream from the farm's own Jersey herd? Just off the A515 south of Buxton, there's a brand new café where you can chat to Karen and Jack and sample before you buy. There's also raw jersey milk to take away for tomorrow morning's breakfast… 
Tagg Lane, Bakewell DE45 1JP
PEAK DISTRICT DAIRY
Over 30 flavours of real dairy ice cream are available at the farm shop and café in the centre of Tideswell.  Look out for their ice cream vans and trailers across the Peak District.   
Sherwood Rd, Tideswell, SK17 8HR, 01298 871786

Located in the village of Dungworth just outside Sheffield, Cliffe House Farm is the place to head for some seriously creamy ice cream. Over thirty flavours are rotated on a weekly basis, so it's well worth more than one visit during your stay in the Peak District! 
Hill Top Road, Dungworth, Sheffield S6 6GW

Just outside Matlock, Masson Farm - a 200-acre working dairy farm - sells homemade ice cream in its renovated parlour, using milk from the farm's dairy herd. Flavours include apple and cinnamon, biscotti, mint choc chip and raspberry ripple. There's also an indoor viewing gallery where you can see the animals and an outside play area.
Snitterton Road, Matlock DE4 2JG, 01629 760596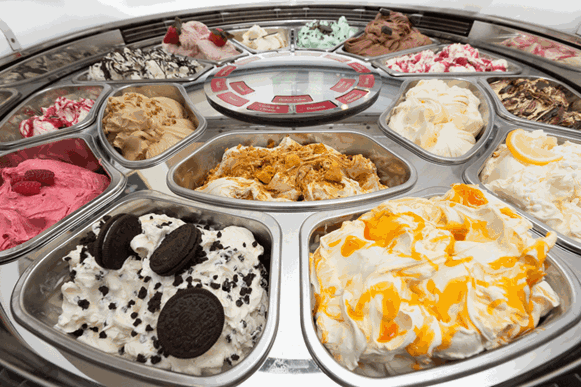 Enjoy real dairy ice cream at Matlock Meadows Ice Cream Parlour
Free-range eggs and milk from the Marsden family own farm are the key ingredients in the production of this delicious home-made ice cream.  Visit their parlour on the farm to sample Barbara's Blackberry, Camilla's Vanilla, Ermintrude's Chocolate and  Marsden's Dairy – as well as the exclusive 'flavour of the month'.
Thorpe Farm, Hathersage, Hope Valley S32 1B, 01433 650659

Head over to Wildboarclough in Cheshire, where Blaze Farm is celebrated for its Hilly Billy Ice Cream – made on-site using the milk from their own dairy herd. Enjoy ice cream in a cone or tub in the farm tearoom; then take away some more to enjoy in your cottage! Flavours include coconut, ginger, double dutch chocolate and Turkish delight with white chocolate. The tea room also sells a choice of homemade cakes.
Wildboarclough, SK11 0BL, 01260 227229

BRADWELL'S DAIRY ICE CREAM
Bradwell's ice cream has been made in the Peak District village of Bradwell for well over 100 years. The business was founded by 'Grandma Hannah', who started production in her front parlour and sold ice cream across the Peak. The recipes were passed down the family and her former kitchen is now home to the busy ice cream parlour.
Bradwell, Hope Valley S33 9LB, 01433 620536
Premier Cottages has a number of luxury holiday cottages in the Peak District, which are the perfect base for sampling excellent gelato. 
All words by Deborah and Martin Hofman of Wheeldon Trees Farm Holiday Cottages, Earl Sterndale, Derbyshire. You can view all of our properties in Derbyshire by clicking here.