Glendurgan Garden. Photo copyright of Tim Green and licenced for reuse under the Creative Commons licence.
The countryside is mellowing slowly into its autumn colours and Cornwall is relaxing after the rush of the summer holidays. September is always a glorious month and if we're lucky the weather holds throughout October as well. There is still plenty to do, it's all just a bit more pleasurable without the crowds!
GARDENS
Autumn gardens are still alive with exotic plants such as Japanese Maples, Australian Incense Bushes and Asian Ginger Lilies all providing vibrant flames of colour.
Top of the list to visit is Glendurgan – hidden from the outside world by shelter belts of woodland in a narrow and beautiful coastal valley. Intended to be a piece of heaven on earth, this secret and special garden also gives a glorious glimpse down to the bright waters of the Helford River.
The Lost Gardens of Heligan and Trelissick are also fabulous for magnificent autumn colours.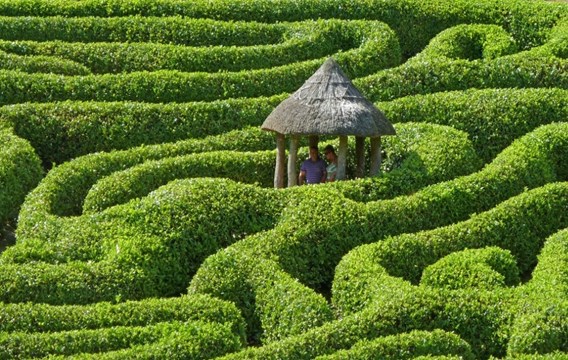 Glendurgan Garden. Photo copyright of Tim Green and licenced for reuse under the Creative Commons licence.
MUSEUMS
Truro's Royal Cornwall Museum is a definite recommend – which among other things has exhibits exploring the rich and varied nature of Poldark's 18th-century Cornwall.  The 12 internationally bestselling Poldark novels are set in Cornwall, where author Winston Graham spent much of his life! 
The museum has a unique connection with Winston Graham as they hold many of the author's original notebooks, showing his novels written in longhand, and this has resulted in the museum being a site of pilgrimage for the many fans who arrive in Cornwall from across the world looking for traces of Graham's original work.
Always worth a visit even for landlubbers are the multi-award winning National Maritime Museum Cornwall in Falmouth and The Shipwreck Museum in Charlestown.
FOOD – SOMETHING DEAR TO OUR HEARTS!
The Falmouth Oyster Festival starts on the 11th October in Falmouth – The weekend is packed with cookery demonstrations by leading local chefs, oysters, seafood, wine and local ale, sea shanties, and marquees brimming with Cornish produce. 
There is also a pasty festival in Redruth, a honey fair in Callington and a beer festival in Falmouth… need we go on!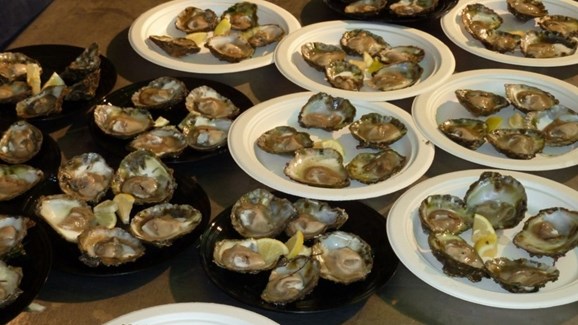 Oysters at Falmouth Oyster Festival. Photo copyright of The Local People Photo Archive and licenced for reuse under the Creative Commons licence.
WALKING
The coastal footpath becomes more interesting with basking sharks, seals, and migrating birds to look out for. Try St Anthony's Head, Towan and Porthbean Beach.
Take the binoculars and wander through the woodland and creekside walks where you will see a variety of migrating waders, maybe a great blue heron or a glossy ibis, but certainly sandpipers, red and greenshanks, stints and knots. Best spots are along the Percuil River, Tresillian River and the Fal of course.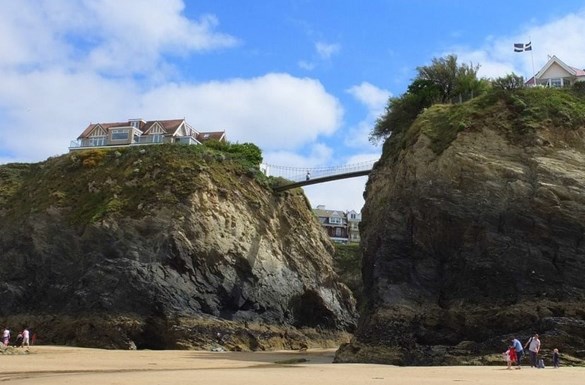 The Island, Towan Beach, Newquay. Photo copyright of Gary Rogers and licenced for reuse under the Creative Commons licence.
Premier Cottages has a number of luxury holiday cottages in South Cornwall, which are the perfect base to sample local produce and explore colourful gardens, museums, and a variety of walks throughout autumn.
All words by Barbara and Mark Sadler of Roundhouse Barns, Cornwall. You can view all of our properties in Cornwall by clicking here.
Summary
Article Name
Things to do in autumn in South Cornwall
Author
Anne Wiltshire
Description

If you're heading down to South Cornwall this autumn, then there's plenty of exciting things to do and see - just without the busy crowds. Whether you're planning a stay in a South Cornwall Premier Cottage with family or the one you love, we have some suggestions for things that we're sure you'll enjoy.