Lights dimmed to a barely-there simmer. Plump towels temptingly hung over the tub. A crumple-free bed just begging to be snoozed in. Is there a better welcome at the end of a long day? We here at the Secret Linen Store believe every bedtime should be an exquisite experience, no matter if you're at home or checking into a luxury retreat. If you're thinking about updating your master suite or want to create the ultimate guest room, follow these simple steps to make your very own five-star getaway (without the worry of checkout time!).

1) Cut the Clutter
Typically, the biggest difference between a hotel and a home is clutter. And while going for all-out minimalism is unlikely to be achievable, nothing says luxury less than stray socks and charging cable tangles. Use baskets and decorative bowls to corral odds and ends and tuck away any unnecessary items clogging up your nightstand into drawers. Not only is this trick a winner for bringing next-level luxe to your bedroom, but by giving everything a purpose and a place, you'll create a zen-like space perfect for catching the calmest zzz's.
Once you've cleared the decks, it's time to think about layout. Hotel rooms, like master bedrooms, are designed to be shared, which is why you'll find two sets of pillows, two table lamps and a nightstand on both sides of the bed. To create balance, aim to position your headboard centrally and work symmetrically around it, this will also help prevent those space-hogging squabbles!

It's all in the details...

2) Make it About the Bed
There's no question about it; belly-flopping onto a freshly made bed at the end of a long day is one of life's greatest delights. Enjoy this feeling every night by investing in top-quality cotton sateen bed linen. The epitome of first-class comfort, our luxury high-thread-count sheets ooze elegance and make a real style statement, and although most hotels opt for white, shades of grey, taupe and blue look equally classy.
Quality duvets and pillows are also a real deal-breaker. The finest establishments splurge on Siberian goose down bedding for their lightness and loft and use mattress toppers to give their beds an extra layer of cushioning. Don't be shy piling on the pillows either, they add depth and dimension to a bed, as well as looking utterly indulgent.
Lastly, bring a sense of grandeur to the room by working in a wow headboard and draping a laundered throw or quilted bedspread over the foot end. All that's missing is the turn-down service and a chocolate on your pillow!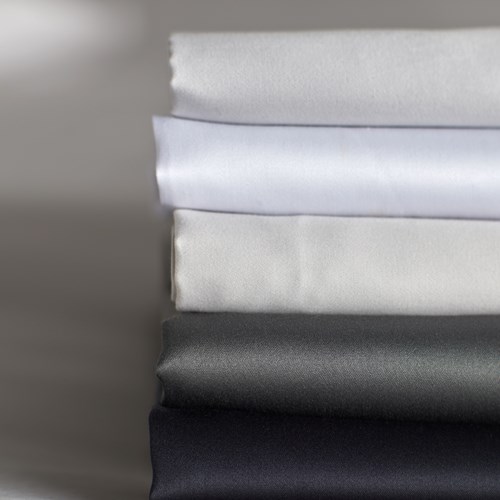 Luxurious high thread count sheets by the Secret Linen Store.
3) Maximise Mood Lighting
Artfully layered lighting can do wonders for turning a blah bedroom into a soothing sleep sanctuary. Consider the room's different functions and optimise each area appropriately, as an example, use subdued lighting by the bed to create a mellow atmosphere as you're winding down, and position a focused task light on the dressing table for when you're getting dolled up.
Other tricks to copy from high-end accommodation include installing a dimmer on overhead lights so you can adjust the strength of their glow according to the mood, hanging blackout curtains to keep natural light at bay and, for the ultimate indulgence, making the light switches accessible from the bed so you'll never bang your shin stumbling around a dark room ever again!
4) Add in Decadent Details
Staying at a luxury retreat is all about recharging your batteries and for that comfort is paramount. From treating your feet to a lush, thick-pile carpet to upgrading your ensuite with 'oh-so-soft' cotton towels, it's the little touches that will bring the real VIP vibe to your bedroom.
For a lavish snooze, go the extra mile by introducing plenty of natural elements into your room, whether that's a fresh-cut bouquet or just a few spindly twigs in a vase, and light scented candles in the evening as sweet smells encourage sweet dreams. Creating a high-class haven in your bedroom doesn't have to mean a complete renovation, a simple spritz of sleep spray on your pillowcase or learning how to do proper hospital corners can do wonders in upping the bliss factor come bedtime.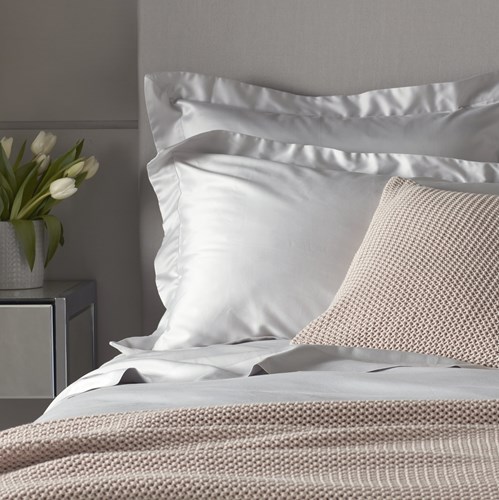 Sink into heaven with beautiful luxurious bed linen and a bouquet of fresh flowers. 

5) Don't Forget a Pop of Personality
While holiday accommodation is typically decorated to appeal to the broadest tastes, your bedroom is all about you. The easiest way to adorn your space in opulence is by using scale to add drama. Embellish your walls with statement artwork or an oversized mirror, a chesterfield armchair or glitzy chandelier, while ensuring all of your key pieces tie into the room's overall colour scheme.
Pastels, whites and beiges are ideal peaceful palette and can then be contrasted with metallic accents, dark wood and rich textures like satin and velvet to add instant glamour. When going for the luxe-look, make 'less is more' your mantra and stick to subtle patterns in harmonious tones, although the odd print in a bright accent colour can sometimes really lift a scheme without spoiling the effect.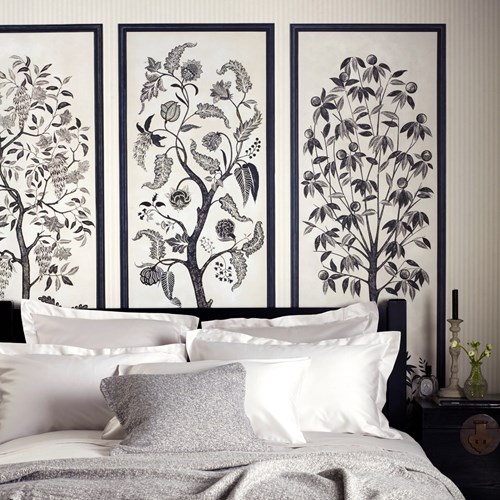 Add a pop of personality to your high-class bedroom with statement artwork. 

So, what are you waiting for? Try a few of these expert tweaks today and upgrade your bedroom ready for a weekend staycation, not only will your interior be worthy of rave reviews, but you'll sleep better too. Just don't forget to hang the do not disturb sign!

All words and images by the Secret Linen Store.