Luxury cottage collection, Premier Cottages is again at the forefront of best practice standards for professional self-caterers with new "COVID-19 Secure" self-catering cleaning protocols which it has developed in association with PASC (Professional Association of Self-Caterers) and the ASSC (Association of Scotland's Self-Caterers).
The guidelines have the backing of UK Hospitality, VisitEngland, VisitScotland, VisitWales, the AA, and the National Tourism Alliances, and are viewed as the industry gold standard.
"We developed these guidelines to ensure that the health and safety of self-catering cottages is beyond reproach and that guests' wellbeing is a number one priority. We also believe that standards like these should be adopted across the industry at a time when the spotlight is on accommodation providers." 
This blog unpicks the new protocols and explains why you can feel confident booking your next holiday cottage from our collection. 
Our Guidelines
Fiona Campbell, Chief Executive of the Association of Scotland's Self-Caterers articulated why the guidelines were created and what they can be used for. Fiona said: "These protocols will allow our sector to re-open to our guests while ensuring the health and safety of everyone involved during these difficult times. Getting our members back to work is essential for both the health and vitality of our sector but also for the Scottish economy, given that we generate £723 million each year in revenue."
She added: "As we gradually begin to ease lockdown restrictions, we need to make sure that the correct balance of rules and freedoms is maintained, and these protocols will form a key part in ensuring that balance."
The COVID cleaning protocols include: 
Specialist hospitality advice on how to undertake risk assessments and a template for doing so

Step by step cleaning guidance, and a cleaning checklist

How to safely handle guest check in and liaison

How to deal with any COVID-19 symptoms for owners and guests

Information on the virus and the products you can use to destroy it

Methods for cleaning different hard surfaces as well as bed linen and towels

Recommended protective clothing 

Safe waste disposal
This is just a taster. We pored over every detail, before formulating our findings into the comprehensive set of guidelines which we sent to our cottages. You can read them in full here to learn about the COVID safety measures we have put in place. 

The Premier Cottage Promise

Beth Bailey, our Chair and Marketing Director, explained "We were keen to welcome our guests back, but their health and safety remain paramount. The robust protocols detailed in these guidelines provide step-by-step instructions on how self-caterers can clean properties safely in the context of COVID-19. This includes which products to use to destroy the virus and advice on protective clothing."
From the top down, we put cottage guests and their experiences first.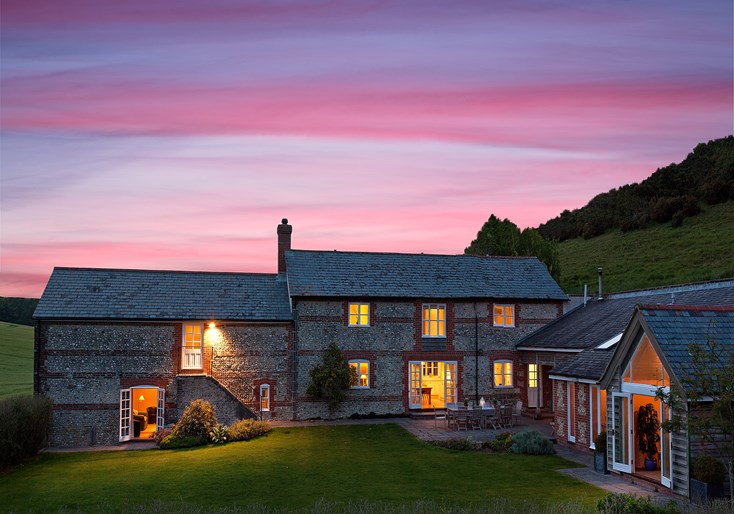 One of Premier Cottages' many beautiful 4 and 5 Star graded cottages, Dove House & Swallows in Dorset.
The Extra Mile
'What makes a good host?' is a question we often ask ourselves. Of course, it's personal, so we cherry pick our holiday home owners around the UK. 
We like to work with great hosts. They get that it's important for guests to feel at home and accommodated in their self-catered property. It starts with an intrinsic warmth and generosity and extends to the little details that define a stay. Our members frequently impress us with the thoughtful touches they think of. 
Our members have adapted their hospitality to COVID-19 with characteristic care. Some have gone above and beyond. Kernock Cottages, for example, has made up COVID-care kits for its holiday homes containing masks, disposable gloves, 80% alcohol hand sanitiser, anti-viral hand wipes, and disinfectant surface wipes, these kits contain everything you need for a mid-stay supermarket trip. 
Safe Spaces To Holiday Around The UK
You shouldn't have to travel far to find luxury self-catering accommodation. Similarly, our safe places to stay happen to be in beautiful 'bucket list' destinations all over the UK, often in wide open, green space. In other words, your travel dreams and your safety can coexist. 
Our 200+ members have nearly one thousand properties across the UK and all of them have received our guidelines (as have PASC and ASSC members). We think it should be a given that self-catering cottages are safe and prepared to welcome you, wherever you choose to holiday. 
Would you rather stride out on Northumberland's wild castle-topped cliffs, or wind through the chocolate box villages of South Sussex? What about the cottage itself? Some allow you to roll out of bed and onto the beach. Others are hidden away, encircled by a crest of hills or Redwood forest. Maybe you are picturing the whole family together, a BBQ sizzling by the poolside. Or perhaps it's just the two of you, watching the sheep graze as you sip gin from your hot tub! 

We have a stunning collection of luxury self-catered accommodation. Your next COVID-19 secure holiday is just a click away. Want to find it?