Next Post
Whether you're a holiday cottage owner wanting to improve your welcome hamper, or you're considering providing one and would like to know how to give a great first impression, here are some ideas for things to include:
1. DON'T FORGET THE ESSENTIALS
The majority of your guests will be arriving at your property after a long drive, dreaming of a welcoming cup of tea or coffee, and a delicious sweet treat to keep them going until dinner. In that case, milk, teabags and a jar of coffee should at the top of your list of things to include in your luxury welcome hamper. Freshly baked bread is also a good shout, along with butter, cheese and eggs for a nice supper! If you want to push the boat out, why not consider other beverages, like hot chocolate and decaf tea and coffee, and other items that your guests might like due to their preferences, intolerances and/or allergies.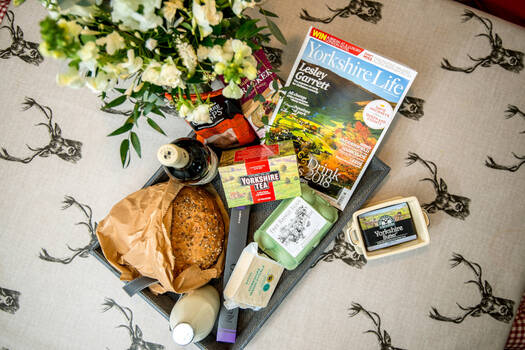 Include milk, tea, coffee and maybe even a local magazine in your welcome hamper in order to help your guests relax after their journey.
2. CONSIDER BUYING LOCALLY
Buying locally is brilliant because it's a way of supporting your local community and businesses which benefit the tourism industry as a whole. It's great to build relationships with local suppliers, and while you may have to pay a little more for 'proper' local cheese and other goodies, you might find that your guests value it more than your average supermarket brand. If guests enjoy a particular product, it will help them find out where to buy more, again supporting local businesses. It is this attention to detail which guests value, and something which often gets a mention in guestbooks!!
3. GAMES, BOOKS, THINGS FOR KIDS
Within the welcome hamper itself, you might include an activity book or small gift for each of the children in the party (if you have younger guests visiting your family-friendly cottage), even better if it's something which will keep them occupied while the big kids unpack their things! Postcards of your luxury cottage are a fantastic idea if you want to remind guests of their stay and possibly jog their memory to re-book when they come across them in a few months... Additionally, many people book holiday cottages for special occasions - you can check or ask them when they get in touch before their stay. Providing a little something tailored to these memorable events is a lovely touch - think a small cake with candles for a birthday, chocolates and bubbly for an anniversary, Valentine's or Mother's Day break.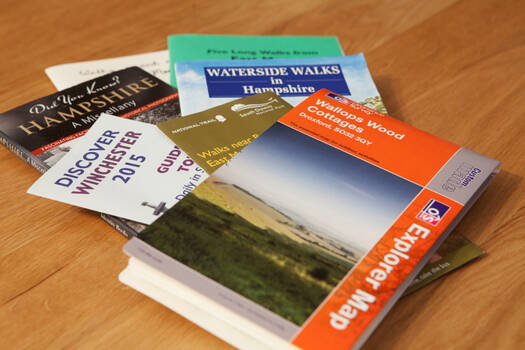 Books and guides help inform guests on the local area which they might be interested in doing during their cottage holiday.
4. TAILOR YOUR HAMPER TO SUIT THE GUESTS NEEDS
The contents of a welcome hamper will vary depending on the size and type of your holiday cottage. It pays to check who exactly will be staying and attempt to tailor your offering to suit their needs. If yours is a family-friendly property, you'll almost certainly earn brownie points with parents if you include a little treat for the children such as chocolate cookies or a bag of sweets. For pet-friendly cottages, a little welcome for the four-legged guests wouldn't go amiss, and if you 'Welcome Dogs' don't forget to include a handful of dog biscuits, a chew and a toy to appeal to pooches large and small! Couples on a romantic escape will appreciate a bottle of wine or bubbly, and you can pair of wine glasses or champagne flutes to add to the romantic feel to the cottage.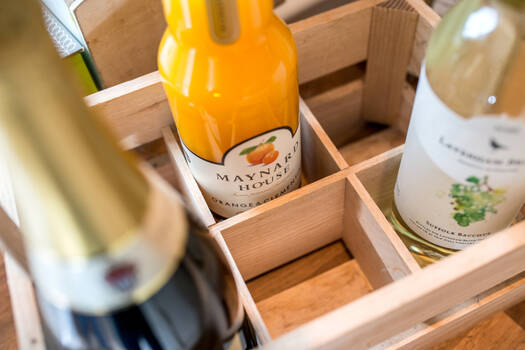 Wake up to freshly squeezed juice.
5. MAKE SOMEONE FEEL SPECIAL BY ADDING A PERSONAL TOUCH
Everyone likes being made to feel a little bit special, especially on holiday, so thoughtful personal touches can go a really long way. If you enjoy a bit of baking, then homemade goodies such as freshly made scones are always a hit, and show you've gone the extra mile. If your holiday cottage is located on a farm and/or you're a keen gardener, why not give your guests a taste of the rural life - what could be more 'country' than a box of fresh fruit and vegetables with a zero carbon footprint?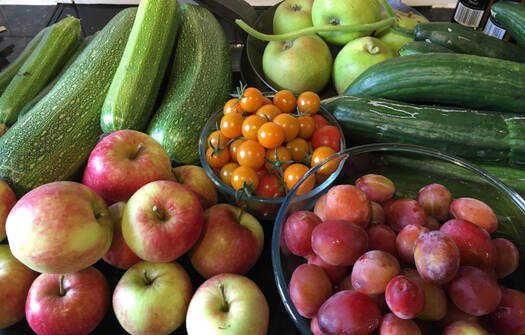 A trug of fresh, home-grown fruit or vegetables will go down a treat with guests looking to get a taste of the rural life.
6. MAKE YOUR WELCOME BASKET LOOK APPEALING
Whether you have a carefully curated collection of strictly local goods or you have opted for a more minimal yet luxurious feel to your welcome basket, the presentation of your items must be carefully considered. Traditionally welcome hampers are just that: an attractive wicker basket, perhaps lined with straw in which you can attractively place your offerings. You may prefer to opt for a wooden box, or other receptacle which you feel better fits the décor of your holiday home. Little touches like a local postcard and fresh flowers will brighten things up too. Things like this can help you to achieve 5* reviews, encourage repeat bookings, and get word of mouth recommendations. It's a win win situation!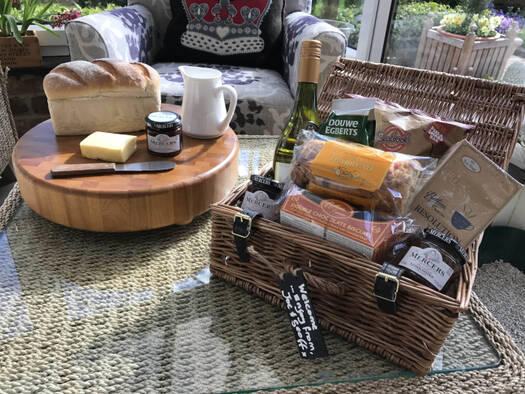 It's all in the details! 
Hopefully this has helped inspire you the ingredients for your next fabulous welcome pack - we have no doubt that it will leave your guests wanting to return for more...
Click here to view luxury holiday cottages across the UK
Click here to view dog-friendly holiday cottages