Britain offers a variety of adventurous holiday opportunities, with hundreds of miles of glorious coastline, cycle paths and rambling routes to choose from in a wealth of locations. With spring arriving at the end of the month, now is the perfect time to think about your next activity break!
Here are some of our favourite active escapes to help you make the most of 2020:
1. COASTEERING ON THE PEMBROKESHIRE COAST, SOUTH WALES
The Pembrokeshire coast is breathtaking, to say the least. Much like its Cornish cousin, this stretch of coastline has been carved out by the wild Atlantic to create a stunning dramatic seascape. Britain's only coastal national park has 180 miles of coast path where you will find picturesque coves and lots of long, sandy bays. This is coasteering country, where you will come face to face with the raw power of the Atlantic with wild swimming, climbing and jumping from cliffs, and rock hopping! If this sounds like your cup of tea, we have a variety of luxury cottages in Pembrokeshire, all of which provide the perfect base for your next adventurous escape...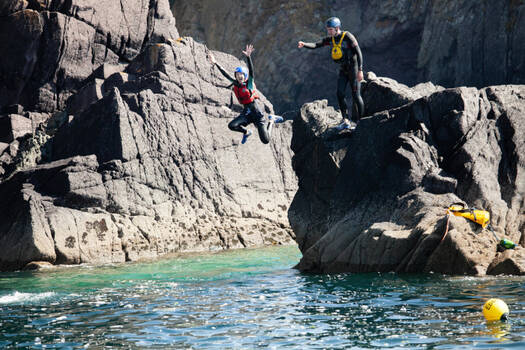 Discover cliff jumping, scramble climbing, adventure swimming, rock hopping and more all from your Pembrokeshire holiday cottage.
2. SURFING IN DEVON
One of Britain's best surf spots, Devon is full to the brim with glorious beaches and towering waves. With endless amounts of coastline, there is plenty of places to take a board out, but for brilliant waves most time of the year, you might want to head to the beautiful Croyde Bay. Known for its reliable conditions and fantastic waves, this North Devon beach is the one to visit all-year-round. Surf schools and hire shops line the sand, so whether you're a beginner, or an intermediate wanting to take it to the next level, you can take to the water under expert tuition. If you like the sound of surfing and what Devon has to offer, we have over 100 luxury holiday cottages in Devon, some of which are within walking distance (1 mile) of the beach, and many of which have a beach within 10 miles – the choice is all yours!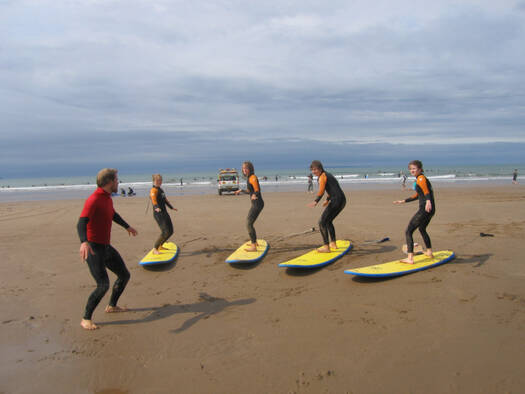 Step into in the sea with a board for the first time, or sharpen your advanced surfer skills with the family at Croyde Bay.
3. KAYAKING IN CORNWALL
Kayaking is one of the best ways to immerse yourself in the beauty of Cornwall, whether that is alone, with your partner or with the family. A popular place for kayaking in Cornwall is Fowey, best known as the home of the world-famous author Daphne du Maurier. This small fabulous town overlooks an estuary towards the scenic South Cornish coast – wildlife is in abundance, and it is a wonderful location for kayakers of all levels. Routes extend upstream towards the countryside, or you can follow the estuary along the coast towards the sea, and you might even spot herons, cormorants and kingfishers as you glide across the water. If you want to stay in a luxury holiday cottage in Cornwall, perhaps even a Cornwall coastal cottage so that you don't have to travel far to try your hand at kayaking, take a look at our 178 luxury Cornwall cottages (Cornish pasties not included!).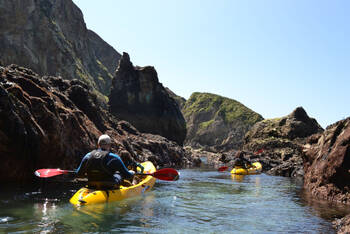 Experience a unique chance to discover secret coves and gorgeous sea caves whilst kayaking on the Cornwall coast.
4. CYCLING IN THE LAKE DISTRICT
Amongst other things such as walking, climbing, and boating, the Lake District is a cyclist's paradise with a range of stimulating mountainous tracks and moderate wooded trails set amongst some of England's most picturesque countryside. Some of the best trails are in Grizedale Forest, where you will find miles of well-maintained paths amongst ancient oak and conifer trees along with strategically placed cafés for weary riders to recuperate. This is also one of the best places for wild off-road routes with a real sense of wilderness. Head to our website to select the Lake District holiday cottage that is perfect for your next adventure.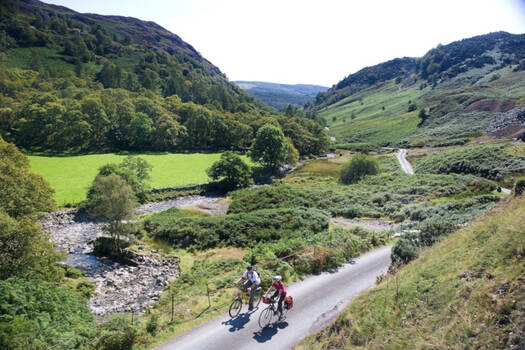 Make the most of your Lake District holiday by cycling in gorgeous UK locations.
5. WALKING AND RUNNING IN YORKSHIRE
Those who enjoy the Great Outdoors are spoilt for choice, as there is an abundance of wild and wonderful scenery in Yorkshire. The North Yorkshire Moors National Park is breathtaking in its sheer size and offers plenty of opportunities for those who enjoy walking, running, cycling and horse riding. Not forgetting the Yorkshire Wolds, which may not be as well known as the Yorkshire Dales and the North York Moors, but that also means you can enjoy the beautiful Yorkshire countryside that many tourists don't experience! So if you are planning a holiday to the largest county in England, look at our luxury cottages in Yorkshire to get inspired for your next luxury break.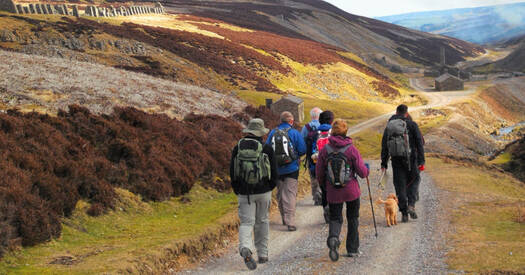 Explore the valleys, moors, hills and caverns of the Yorkshire Dales National Park during your Yorkshire cottage holiday.
Find your activity holiday in the UK for 2020 on our website.
Click here to view luxury cottages with hot tubs
Click here to view romantic luxury cottages