Wheeldon Trees Cottages, Derbyshire - from Premier Cottages "Green Getaways" collection. 
Demand for sustainable holidays in the UK is increasing rapidly as concerns about global warming continue to rise. According to the Office for National Statistics (ONS) three-quarters of adults in Great Britain are now worried about the impact of climate change, while almost half of adults report that they are feeling anxious about its consequences for the environment. Encouragingly, 80% say they are making changes to their lifestyles in order to help tackle climate change. 
One of the biggest areas where consumers are making changes is in their choice of holiday. For some, this means reducing the number and type of trips that involve flying, while for others it means choosing to stay at places that make sustainability a key priority. In addition, many people are putting sustainability at the top of their priority list when they decide what to do when they are on holiday. Members of Premier Cottages have a long history of being at the forefront of the hospitality industry's response to this shift in consumer demand, and many of our members have introduced a host of eco-friendly initiatives in order to reduce their carbon footprints. The cottages in our collection are also situated in some of the UK's most beautiful locations. Preserving these special places so that future generations can continue to enjoy them is a strong incentive for our owners to ensure that guests can experience them in a sustainable and low-impact way.
The Power Shift (in Cars)
In response to concern about climate change one area showing a dramatic change in consumer behaviour is the adoption of fully electric and hybrid cars (either to own or hire).  Making the car industry fully electric also became a national priority in November 2020 when the UK Government announced that the sale of new petrol and diesel cars would end in 2030, followed by hybrid vehicles in 2035. This move forms a major part of the Government's plan to move the country to net-zero carbon emissions by 2050.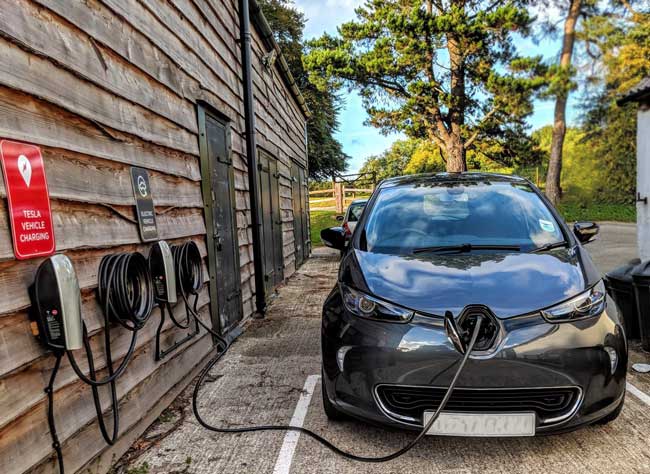 One of 250+ cottages to choose from in Premier Cottages's "EV Charging Onsite" collection.


According to the Society of Motor Manufacturers and Traders (SMMT), sales of new hybrid and fully electric vehicles reached almost half a million in 2021, equivalent to 27.5% of all car sales. As recently as 2019 electric and hybrid sales made up just 3.5% of all vehicles sold. The adoption of fully electric vehicles now looks set to accelerate the fastest, with a recent survey by the Government's Office for National Statistics (ONS) revealing that half of all motorists planned to make the switch over the next few years. However the SMMT has warned that the roll out of EV charging points has not been keeping pace the growth in electric car sales. It is an issue that could potentially slow the growth in electric vehicle purchases, and also make life difficult for motorists looking for charging points in more remote locations.
At Premier Cottages we know just how important this is to increasing numbers of environmentally conscious visitors. One of the big advantages of choosing a place to stay with Premier Cottages is that you really are spoilt for choice when it comes to finding a luxury property with Electric Vehicle (EV) charging. Almost 300 properties in the Premier Cottages collection now offer EV charging on site and this number is increasing rapidly. It means guests of Premier Cottages can charge their cars without hassle and without queuing at public stations. Simply relax in the comfort of your cottage while your vehicle powers up for tomorrow's adventures. To search for your perfect luxury accommodation with electric vehicle charging simply select the "EV Charging Onsite" collection.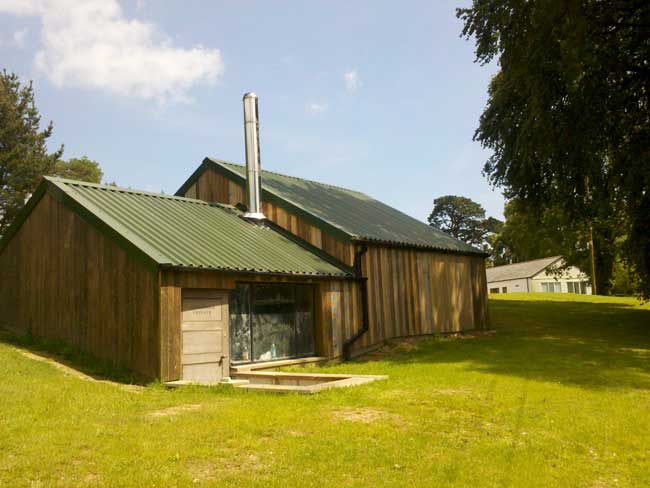 Green technologies such as solar, wind, and biomass power an increasing number of properties in the Premier Cottages Collection.
How Green is My (Holiday) Valley?
While transport rightly remains in sharp focus because of the huge impact of its emissions on climate change, the recent United Nations Conference on Climate Change (COP26) held in Glasgow also drew attention to changes required in the wider tourism sector, including self-catering accommodation. Premier Cottages is committed to playing its part in the move to more sustainable tourism, encouraging its members to adopt eco-friendly practices.
The good news for the environmentally conscious tourist is that self-catering cottages already have a lower carbon footprint than alternative holiday choices. For example, staying in a cottage for a week will result in carbon emissions up to six times lower than going on a cruise and up to eight times less than taking a long haul flight. Even so, there is more that needs to be done to reduce carbon emissions and in "A Net Zero Roadmap for Travel & Tourism", launched at COP26, the World Travel and Tourism Council outlined actions required by accommodation businesses in order to reduce emissions.
The report's roadmap highlights five key areas where accommodation providers should aim to reduce their carbon emissions:
Operational improvements (such as switching to energy efficient lighting)
Sustainable sourcing/procurement (for example by using local sustainable suppliers)
Transition to low carbon energy (generate low carbon energy on site through solar panels or wind power)
Reduce waste (particularly though recycling and cutting down on single use plastics)
Energy efficiency improvements (improving the thermal performance of buildings through use of better materials and insulation)


All these areas are priorities for Premier Cottages members, and more than 220 cottages are now signed up to the Green Tourism Business Scheme (GTBS), the gold standard for eco-conscious hospitality businesses. These cottages offer the highest standards in sustainable tourism, and you can find your perfect luxury accommodation by searching the "Green Getaways" collection.
This isn't just a greenwashing exercise in self-certification.  The GTBS is a rigorous scheme, and each property is assessed and inspected before being accepted into the scheme (see https://www.green-tourism.com).  These members are very focussed on taking steps to make their businesses as sustainable as possible, and measures taken include substantial investments in green technologies such as solar, biomass, ground source heat pumps, solar power generation, biodigesters, and grey water recycling, as well as steps that are easier to achieve, such as local and ethical sourcing, recycling, low energy appliances and lighting, and biodiversity programmes.
Premier Cottages has also signed up to Tourism Declares, an initiative that supports tourism businesses, organisations and individuals in declaring a climate emergency. Signatories commit to taking purposeful action to reduce their carbon emissions in line with The Intergovernmental Panel on Climate Change (IPCC) commitment to cut global carbon emissions to 55% below 2017 levels by 2030.
Case Study – Heath Farm Cottages, The Cotswolds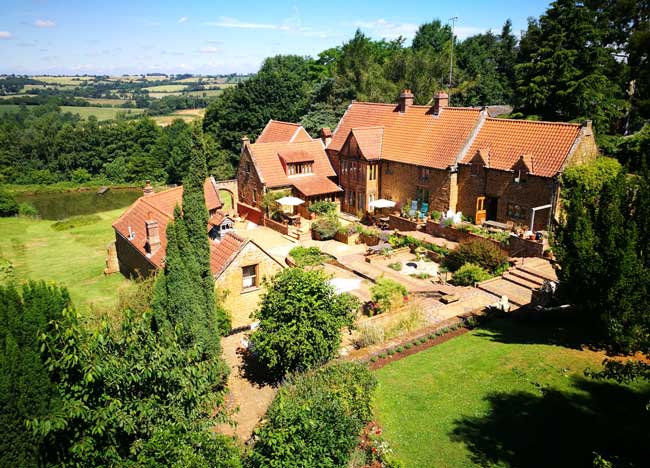 Heath Farm Holiday Cottages, Oxfordshire.
Heath Farm Cottages, with five luxury cottages in the Cotswolds, is one Premier Cottages member that has signed up for the initiative. It has committed to the following five actions:
Develop a 'Climate Emergency Plan' within the next 12 months, which sets out our intentions to reduce carbon emissions over the next decade.
Share an initial public declaration of our 'Climate Emergency Plan', and update on progress each year.
Accept current IPCC advice stating the need to cut global carbon emissions to 55% below 2017 levels by 2030 in order to keep the planet within 1.5 degrees of warming. We'll ensure our 'Climate Emergency Plan' represents actions designed to achieve this as a minimum, through delivering transparent, measurable and increasing reductions in the total carbon emissions per customer arising from our operations and the travel services sold by us.
Encourage our suppliers and partners to make the same declaration; sharing best practice amongst peers; and actively participate in the Tourism Declares community.
Be an advocate for change. We recognise the need for system change across the industry to accelerate a just transition towards carbon-free tourism.

Like most Premier Cottages members, the owners of Heath Farm Cottages have been committed to sustainable eco-tourism for many years. Nena & David Barbour joined the Green Tourism Business Scheme back in 2008 and they have received the scheme's Gold award every year since 2014.
As well as adopting eco-friendly practices in the cottages, the grounds at Heath Farm have become an oasis of biodiversity that all guests can enjoy. Around 50,000 trees and shrubs have been planted of about 60 different species, most of them native. Along with this they have provided a wide diversity of wildlife habitats by planting shrubs and low growing trees around the plantation margins, as this is where most animals like to live. Two wildflower meadows have also been created, and a small area of woodland beside the entrance drive has been under planted with woodland species of wildflowers. These produce an abundance of colour during the season.
The commitment to the local environment means that cottage guests have the chance to see a host of different wildlife including large numbers of butterflies, bats, hares, Roe Deer, Muntjac, Badger, Fox, Mink, Rabbits, Stoats, Weasels, and Field Voles. One recent guest said of this unique eco-friendly haven: "We had a week in Walnut just before Christmas and loved the magical atmosphere and woodlands, feeding the lake trout, spotting muntjacs in the forest mist, and enjoying the silence by the fire. It was a truly peaceful and rehabilitating time." 
Case Study – Mirfeoot, Cumbria
One of the biggest investments Premier Cottages members have made in recent years is in measures to reduce their reliance on fossil fuels. Solar panels, wind turbines and ground source heat pumps are just some of the measures that have been introduced widely across our portfolio in order to decarbonise power supplies. They have enabled many properties to virtually eliminate the need for bought in electricity, and substantial numbers of members export their surplus naturally produced electricity to the national grid.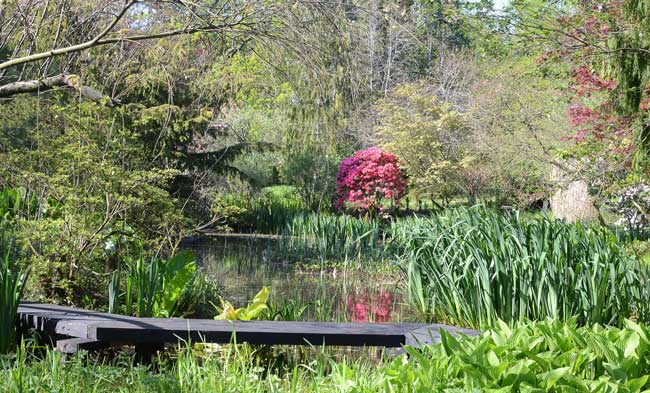 The gorgeous gardens at Mirefoot, Lake District.
Shepherd's View, one of five stunning cottages at Mirefoot in the English Lake District National Park, demonstrates how luxury does not need to be compromised in the search for somewhere eco-friendly to stay. The beautiful five-star gold cottage features stylish, contemporary interiors and benefits from the use of stunning private spa facilities.
The cottage has achieved a "Gold" Green Tourism award following the implementation of an impressive range of eco-tourism measures. These include a biomass boiler and solar panels that between them provide the equivalent of 60% of power usage. Like most properties in the Premier Cottages collection, those at Mirefoot are situated in a wonderful rural location where a great choice of activities can be accessed either directly from the front door or very close by. This makes it easy for visitors to reduce their carbon footprint while still having a great holiday. 
Case Study – The Hyning Estate – Cumbria
Geothermal heat pump systems – either ground or air source – are a key part of the Government's plans to encourage low carbon heating systems. The Hyning Estate in Cumbria has eight luxury cottages in the Premier Cottages collection and they are all heated through a ground source heat pump system. The cottages have also been part of the Department of Energy & Climate Change's Heat Pump Field Trials, which is helping engineers improve the effectiveness of heat pumps and promote their wider use throughout the UK.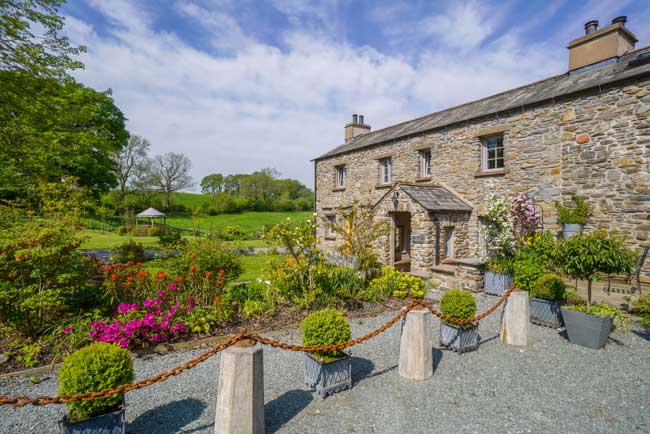 The Old Farmhouse at The Hyning Estate, Cumbria


As part of the trials probes have been installed in every property, as well as in the field containing the ground source collector loop, and also in the Plant Room. As well has the heat pump system, the cottages at The Hyning minimise heat loss through high levels of insulation, triple glazing and heat recovery systems. They also use LED lighting, induction hobs and efficient appliances, and the laundry uses surplus hot water from the geothermal plant. It means that the cottages have an exceptionally low carbon footprint.
For visitors without their own cars, or for those who want to leave their cars at home, The Hyning has partnered with a community car share club. The partnership means that guests of The Hyning who arrive at nearby Oxenholme railway station can rent low carbon electric and hybrid cars as and when needed during their stay. Fully electric cars cost £5.50 an hour or £38.50 a day to hire fully inclusive of insurance and electricity. The estate itself now owns just one vehicle, and uses the car share club when it needs additional transport. Like many Premier Cottages members, the Hyning Estate also offers free EV charging for any vehicles used by guests. 
Discover More
These are just a few examples of the work being done by members of Premier Cottages to become more sustainable businesses. They demonstrate that by choosing to holiday with Premier Cottages you can be confident you will be staying at places that are taking positive steps to help reduce the effects of climate change. So search our Green Getaways Cottages collection today to find the right luxury property for you where you can be assured that sustainability is highly valued.