For lovers of literature, an author or even a particular book can be a good enough reason for a holiday. So, it's not surprising that given 2017 is set to be a bumper year for literary anniversaries, VisitEngland has designated it "Year of Literary Heroes".
VisitEngland has also put together a list of writers set to hit the literary limelight this year and, with a little research of our own, we've curated a selection of cottages that are ideal for discovering the sights and landscapes that inspired some of England's most famous novelists.
Topping the bill is Jane Austen. A programme of special events, exhibitions and activities will take place throughout 2017 to celebrate the 200th anniversary of her death.  Details can be found here.
Premier Cottages' Wallops Wood, featuring six stunning four-star Gold properties in the heart of South Downs National Park, offers the ideal location for those keen to follow in the footsteps of this famous writer.  It's located a short drive from the Jane Austen House Museum in Chawton, her grave in Winchester Cathedral as well as Basingstoke - where she took tea and went dancing.
Wallops Wood is also 11 miles from Petersfield and well situated for those inspired by wartime poet Edward Thomas, who died one hundred years ago. Thomas lived and worked in the village of Steep near Petersfield.  The Peterfield Museum with an exhibition about Thomas will be reopening in April. There's a four-mile circular walk with stunning views of the South Downs, which explores the area that inspired his writing. The route includes the memorial stone on the Shoulder of Mutton hill, dedicated to Thomas, the Red House, his home from 1909 to 1913, and Steep Church containing two engraved windows commemorating the centenary of his birth. 
Families yearning for wholesome adventures, free from the reigns of tech devices, can embrace the 75th anniversary of Enid Blyton's Famous Five book series this summer. And what better way to recapture the nostalgia than a trip to Dorset, which served as inspiration for many of her books following her own holidays there.  
Dorset's The Bend in the pretty New Forest hamlet of Neacroft, sleeps 12 comfortably making it perfect for two or three families of Famous Five wannabes wanting to holiday together.
This stylish holiday home is a peaceful retreat with plenty of room for slap up family teas befitting George, Anne, Julian and Dick. Families can also enjoy table tennis marathons in the games room and discover the New Forest – on foot, by bicycle or on horseback and there are plenty of open spaces to enjoy picnics with lashings of ginger beer.
Enid Blyton enthusiasts will find more opportunities for childhood adventures at Dove House and Swallows.  Situated at the end of a mile-long tree lined drive in Dorset, the properties provide an idyllic location that offer a taste of holidays of yesteryear. There's plenty of places for exploration and den building in the 1,000 acres of working farmland accessed direct from the doorstep, as well as a network of footpaths ideal for pre-dinner strolls. While the stunning Jurassic coast with its swimming, boating, fossiling and lovely beaches is nearby.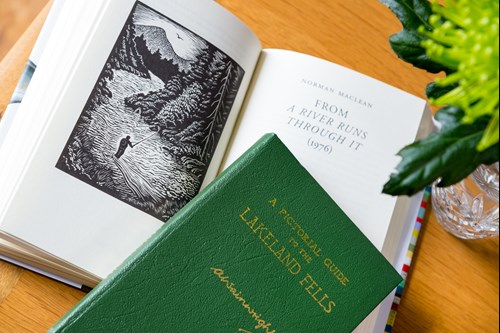 Another childhood favourite, Arthur Ransome, died 50 years ago this year. Sailing in the Norfolk Broads National Park, the UK's largest wetland area, gave him the inspiration for his Swallows and Amazons series of books. 
He spent his last 30-plus years in Suffolk where he bought his much-loved yacht the Nancy Blackett, said to have inspired the seventh book in the Swallows and Amazons series, We Didn't Mean to Go to Sea – coincidentally celebrating its 80th year since publication in 2017. Book a sailing experience aboard the legendary yacht, which is moored in Woolverstone Marina on the Shotley Peninsula or sail on the River Orwell. Both of these activities can be easily enjoyed from cosy thatched cottage, The Old Drift House, which sleeps eight.
2017 also marks 20 years since the release of JK Rowling's first novel, Harry Potter and the Philosopher's Stone, which put places like Northumberland's Alnwick Castle (one of the Hogwarts locations) on the map.
The Castle is just five miles from Lemmington Lodge and Keeper's Cottage and will be hosting a range of activities this year from engaging behind-the scenes guided tours, to broom stick training sessions with resident wizarding professors on the very spot where Harry had his first flying lesson in Harry Potter and the Philosopher's Stone.
Award winning and designed to complement their unique semi-woodland setting, the properties make an excellent base for exploring the Northumberland National Park and its beautiful coastline.
Also nearby are Breamish Valley Cottages, a cluster of stone and slate built houses in the peaceful 19th century farming hamlet of Branton. They sit at the foot of the Cheviot Hills near Alnwick on the edge of Northumberland National Park and offer an array of onsite activities for both adults and children alike including: tennis courts, gym, nine-hole crazy golf putting course, plus pool, spa and hot tub.
For more literary inspiration visit www.visitengland.com/literature. For more information on Premier Cottages, please visit www.premiercottages.co.uk