Trematon Castle Gardens (photo courtesy of Trematon Castle)
With its mild climate, Cornwall boasts the highest concentration of grand and impressive gardens open to the public of any county in England.  Bathing in the Gulfstream, Cornwall is home to some of the rarest and most exotic plant species in the UK.  But there is plenty of variety –  there are lots of different types of gardens – as well as the gentle magical woodland gardens, and elegant sweeps of landscaped parkland curtseying down into the river, there is also the drama of sub-tropical exotic gardens which owe their existence to the adventuring Victorian plant hunters who brought back their prizes from far-flung outreaches.
Springtime comes early to Cornwall, and is often heralded as the best time for visiting its gardens.  Renowned the world over, this is the time when the rhododendron, azalea, magnolia and camellia that flourish in the acidic Cornish soils put on their best show, but the mild climate ensures that there is plenty of interest all year round.  Kernow a'gas dynergh, as they say here – Welcome to Cornwall.  Any time.
Many of these gardens belong to some of the truly impressive historical houses which can be found the length and breadth of Cornwall, and others – like the Eden Project – are much more modern transformations.  Below you will find some of our favourites in East Cornwall.


Cotehele
One of the finest Tudor houses in the country, at the heart of this riverside estate the house at Cotehele was mainly built between 1485 and 1627 and was a home of the Edgcumbe family for centuries. Its granite and slate stone walls contain chambers adorned with tapestries, original furniture and armour. From November onwards every year, the Great Hall is decorated with a stunning 60-foot long floral Christmas garland, made each year from thousands of flowers grown on the estate.  Outside, the gardens consist of twelve distinct areas, including formal gardens, a wild valley garden, a cut flower garden (which supplies the garland) and various orchards.  There is a medieval dovecote, stewpond and Victorian summer house, and 18th-century tower.  Down on the riverside at the Quay, there are interesting old buildings including a working Victorian water wheel, an art and craft gallery and an outstation of the National Maritime Museum. The restored Tamar sailing barge Shamrock is moored alongside.  https://www.nationaltrust.org.uk/cotehele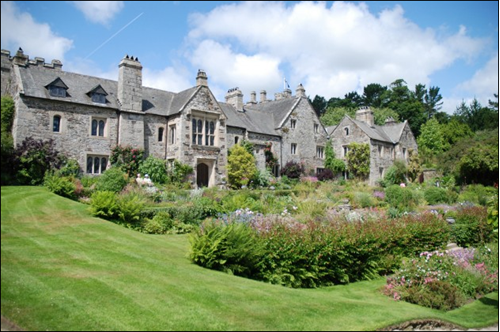 Cotehele House (photo courtesy of National Trust)
Trematon Castle
Heading down the river Tamar from Cotehele to its confluence with the river Lynher, you find Trematon Castle, a perfect miniature motte and bailey castle built in 1350 for the Black Prince (Edward, Prince of Wales).  Perfectly poised on the banks of the Lynher, with commanding views over the estuary, it is little wonder that John Betjemen called it "one of the superb views of Cornwall".  The house is a private residence, and the gardens have been brilliantly redesigned by garden-designer owners Isabel and Julian Bannerman, who have created a romantic and colourful garden, designed to play to the unique combination of history, architecture and location.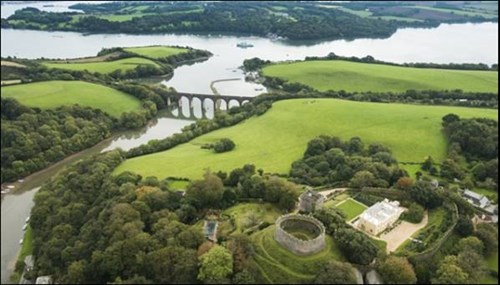 Trematon Castle (photo courtesy of Trematon Castle)
Antony House
On the opposite bank of the Lynher from Trematon (probably less than a mile by boat, or as the crow flies, but 15 miles by road, navigating around the fingers of the Lynher as she reaches into Cornwall), lies Antony House – a rather grand early 18th Century mansion with a magnificent sweep of lawns down to the river, and gardens landscaped by Repton.  These include a formal courtyard, an ornamental Japanese pond, terraces, fine summer borders, sculptures and a knot garden.  Antony is also home to the National Collection of Hemerocallis (or daylilies to most of us), of which they have, apparently, 610 cultivars.  Be aware, before planning at day at Antony with your four-legged friend, that Antony only allows assistance dogs.  https://www.nationaltrust.org.uk/antony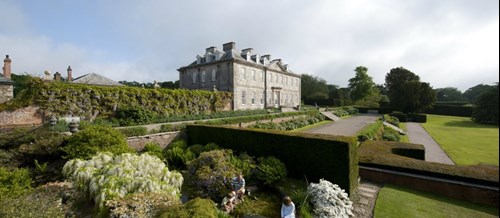 Antony House (photo courtesy of National Trust)
Mount Edgcumbe
Following the Tamar down to where it spills into the sea, you arrive at Mount Edgcumbe in Torpoint, built by Sir Richard Edgcumbe in 1547-53 in the middle of his 865-acre deer park on the Rame Peninsula, and described by Samuel Pepys as "the most beautiful place as ever was seen".   Mount Edgcumbe is the earliest landscaped park in Cornwall and one of only three Grade 1 Landscape Parks in the South West.  It includes temples, follies a shell seat and formal gardens in the Italian, French American and New Zealand styles, as well as a Fern Dell with specimens from all over the world.   Mount Edgcumbe is also home to the National Camellia Collection, which boasts over 1000 cultivars.  During the Camellia season a dedicated trail is laid out within the collection giving interested visitors information about the collection.  The planting is informal within a woodland setting of over 30 acres, all plants are clearly labelled and access is free to the public.

Port Eliot
Believed to be the oldest continuously-inhabited dwelling in the UK, the house at Port Eliot has been lived in for more than 1000 years.  It is a rare combination of a Grade 1 listed house in a Grade 1 listed park and garden.  The Estate covers some 6000 acres, and includes landscaping by Sir Humphrey Repton, a 100-year old Rhododendron garden and camellia glade, a secret maze, summerhouses, fountains, ornamental ponds, a beautiful Georgian orangery, and many acres of daffodils, wild garlic, primroses, hellebores, hyacinths, crocuses and snowdrops.  The gardens are open in the spring up until the end of June.  Port Eliot is also home to the fabulously eclectic Port Eliot Festival in July, and the Port Eliot Dog Festival in May, which includes a Whippet's Tea Party! www.porteliot.co.uk.
Boconnoc Gardens
Three miles east of Lostwithiel, Boconnoc can trace its history back to the Normans. Eventually, the estate was bequeathed to the Fortescue family, who still own it.  The most prominent monument is the Obelisk, which is 123 feet high and was erected in 1771 by Thomas Pitt, 1st Lord Camelford, in memory of his wife's uncle and benefactor, Sir Richard Lyttelton.  The Deer Park contained within the grounds is home to around 100 head of deer, and the estate includes a garden of some 20 acres, which is open in the spring for various charities.  Boconnoc House and Park have been used for numerous film locations including the BBC 'Poldark' series and Daphne du Maurier's 'My Cousin Rachel'.  Interesting Steam Fair in July every year, and the garden is open to the public most Sundays in May.  www.boconnoc.com.
Lanhydrock
While the original house dates back to the 1620s (the gatehouse and north wing, with its magnificent 32yd-long gallery with plaster ceiling survive from the 17th century), Lanhydrock suffered a devastating fire in 1881, and was rebuilt in Victorian mock-Jacobean style, making much use of steel and concrete to make it as fire-proof as possible.  The sheer scale of the house makes it one of the most impressive historic houses in Cornwall (50 rooms are open to the public!).  The house sits in some 900 acres of parkland, ancient woods, and riverside paths on the River Fowey.   Closer to the house are the more formal gardens including herbaceous borders, a formal parterre, and a stunning collection of magnolias, rhododendron and camellias, which provides a wonderful spring backdrop, but the gardens also offer fine colours right through into autumn.  https://www.nationaltrust.org.uk/lanhydrock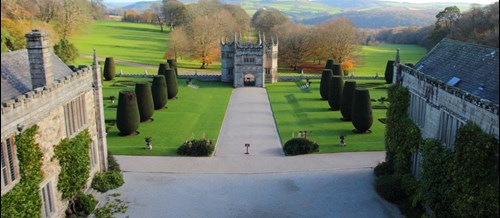 Lanhydrock (photo courtesy of National Trust)
Eden Project
Of course, no mention of Cornish gardens would be complete without at least a nod to Tim Smit's magnificent Eden Project, born out of the china clay pits close to St Austell, and now home to the famous biomes and an extraordinary collection of plants from around the world.  Eden features a fabulous array of gardens, including the world's largest indoor rainforest and a Mediterranean garden in the biomes, but also amazing buildings, sculpture, art and architecture, and activities for all ages, and all year round. Just go and see!  www.edenproject.com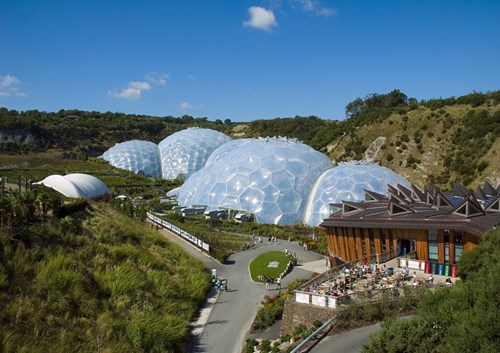 Biomes at the Eden Project
Lost Gardens of Heligan
The award winning Lost Gardens of Heligan now extend to over 200 acres of "superb pleasure grounds" together with a magnificent complex of walled gardens and a huge, productive Victorian vegetable garden, all fast returning to their former glory. Lying at the heart of one of the most mysterious estates in England, Heligan, the former seat of the Tremayne family, is now the site of the largest garden restoration in Europe.  It has an extraordinary plant collection together with a range of exotic glasshouses, working buildings, romantic structures and designed landscapes.  The Jungle is an extraordinary steep-sided 22-acre valley which is home to some of the lushest exotic plants in the country, cascading down a series of four ponds, flanked by boardwalks, and includes Europe's largest collection of tree ferns.  Heligan also features the Pleasure Gardens – a series of gardens within a garden, in different styles.  The gardens continue to grow in size, as the project expands and more parts of this Sleeping Beauty are coaxed back to life. www.heligan.com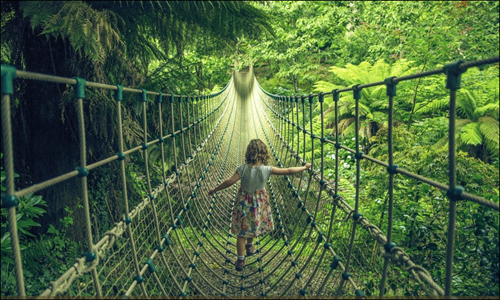 Burmese Rope Bridge at The Jungle, Heligan (photo courtesy of Lost Gardens of Heligan)
There are many other smaller gardens in East Cornwall – some of which are exceptional – which are sometimes open to the public (including Pentillie Castle, Ince Castle, Caerhays Castle, Moyclare and Tregrehan) and of course there are many more magnificent larger gardens further down Cornwall and up towards the North coast.  You can find these, including links to their individual websites and a map of their main locations on http://www.gardensincornwall.co.uk/map-of-gardens/
All words by Beth Bailey of Kernock Cottages, Pillaton, Cornwall. You can view all of our properties in Cornwall by clicking here.