Image courtesy of Winchester Cathedral
At the western end of the South Downs National Park, alongside the River Itchen, lies the historical city of Winchester. Winchester was born from Iron Age settlement, later developing into the Roman town of Venta Belgarum (town of the Belgae – a Gaulish tribe). In Saxon times it became known as Wintan-ceastre (the Old English for Fort Town) and a church was built, which later became the original cathedral.
The modern-day Cathedral was originally built in 1079 and remains the longest Gothic cathedral in Europe. The Bishop of Winchester, William of Whykeham, was responsible for rebuilding much of Winchester, including parts of the Cathedral, after a fire in 1141. He is now buried in the Cathedral, as is Jane Austen who died in the City 200 years ago on 18th July 1817.
Located in the Cathedral's historic Close, Winchester's Christmas Market was founded in 2006 and is now recognised as one of the best in Europe … and Winchester is now widely known as England's Christmas Capital!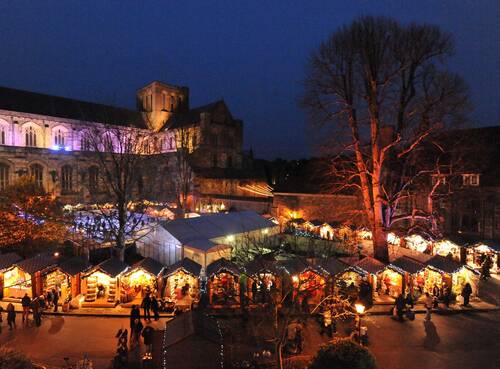 Image courtesy of Winchester Cathedral
Inspired by the German Christmas markets, over 100 wooden chalets are nestled around an open air ice rink. Vendors are hand-picked for high quality, unique products, food & drink. Over half a million visitors come to the market each year for fabulous Christmas gifts, decorations and festive foods within this unique location with its backdrop of dramatic medieval architecture.
There are a variety of gorgeous products available to buy from mainly British talented craftsmen and women including jewellers, painters and textile artists. To get an idea of what's on offer, click through to a video of last year's market:


 
The ice rink now has a clear roof, so you can enjoy the winter wonderland experience whatever the weather!
So shop, skate and then warm yourself with a festive mulled wine, mince pie or a bag of roasted chestnuts whilst admiring the enchanting nativity scene at the far end of the British Crafts Village.
While you're there it's worth visiting the Cathedral itself. A huge Christmas tree reaches up towards the vaults, and there are a number of Christmas concerts and carol services that take place, all adding to the festive atmosphere.
This year's market runs from Monday 20th November to Friday 22nd December, with the ice rink running until Sunday 7th January 2018.
All words by Melanie Styles of Wallops Wood Cottages, Droxford, Hampshire. You can view all of our properties in Hampshire by clicking here.