Four Seasons: Spring, by Avenda Burnell Walsh. Image courtesy of Devon Artist Network
Are you interested in arts and crafts? Do you know and love the Devon coast and countryside? Well then, you should come to stay here between 9th and 24th September for the annual Devon Open Studios event.
This is a unique opportunity to meet over 200 artists and makers in their own studios, many of which lie in interesting, beautiful and unexplored parts of this huge and varied rural county; the open moorland of Dartmoor, deep forested river valleys, the coves and fishing towns of the South Hams, cosmopolitan cities Exeter and Plymouth, and the busy resorts of Torbay and the North Devon coast. You can discover some studios on working farms and medieval barns, some in hamlets and villages, others in tiny back streets of the larger towns and cities. This is your chance to see and maybe to buy unique items of affordable art directly from the artist, without gallery commission. Some of the creators will demonstrate, give talks, or even allow you to have a go. You will be able to see an inspiring range of artwork, ceramics (pottery and glass), sculpture, photography, jewellery, woodwork, textiles, etc., often within a few miles of each other, or sometimes together at one convenient shared centre.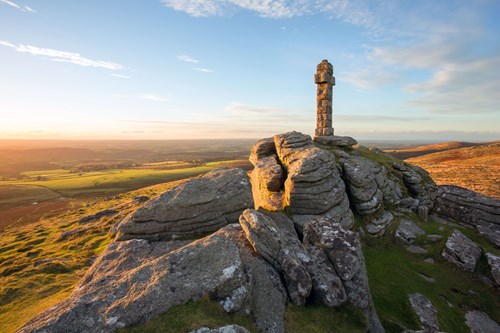 Widgery Cross on Brat Tor, Devon

You can explore and discover at your own pace, maybe visiting four or five studios in a day, and stopping for light lunch or a delicious Devon cream tea along the way. You can create your own journey of discovery using the free colour guide which includes maps showing all the locations. This also tells you about all of the artists and their skills, and gives opening times. All the studios are marked with yellow roadside arrows which help you find your chosen destinations quickly from the nearest roads. This year's guide can be found as a download on the Devon Artist Network homepage.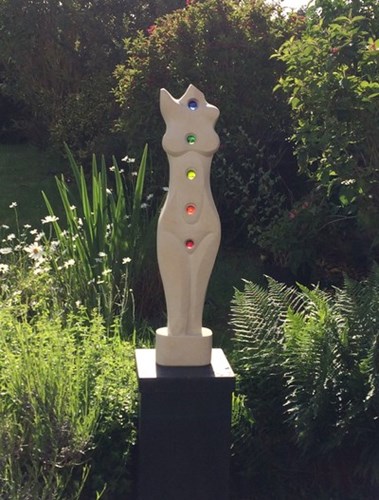 Stone carving by Nicola Axe. Image courtesy of Devon Artist Network
Maybe you could stay for a week with friends or family in your choice of one of the 139 Premier Cottages throughout Devon, and use the Open Studios Guide to inspire a few days out exploring the less familiar corners of the county. The weather is often wonderful here in September; with the first signs of autumn encouraging you to get out and about before winter creeps up on you. Even if you are unlucky and have less amenable weather, you can still visit the studios or just chill out in your luxury cottage! 
All words and images by Stuart Chambers of The Tithe Barn, Ashburton, Devon. You can view all of our properties in Devon by clicking here.