Famed for its rugged Atlantic coast, North Devon is home to an array of stunning beaches - some of which have Blue Flag status, which means there are restrictions, especially in peak season (May to September). Though with such vast stretches of space there is enough space for your dog to roam free and enjoy the sand and sea on their paws. What better excuse to treat the pooch to a  well deserved dog-friendly cottage holiday in Devon!


Here's a selection of 5 gorgeous dog-friendly beaches to visit in North Devon:

1. SAUNTON BEACH


Saunton Beach
 offers 3 and half miles of straight and flat coastline backed by the impressive 
Braunton Burrows - a UNESCO Biosphere Reserve,
 which makes it a perfect open space for you to enjoy with your pooch. This particular beach is one of the most dog-friendly beaches in North Devon. This part of the coastline is a favourite of surfers, families, dogs and their owners. Oh, and pop stars and celebrities! Did you know that Robbie Williams filmed the video for Angels on this stretch of beach, and that Olly Murs filmed the video for 'Hand on Heart'? Pink Floyd also filmed here... you know the image of all the hospital beds on the beach? Well, that was taken on this very beach in 1987!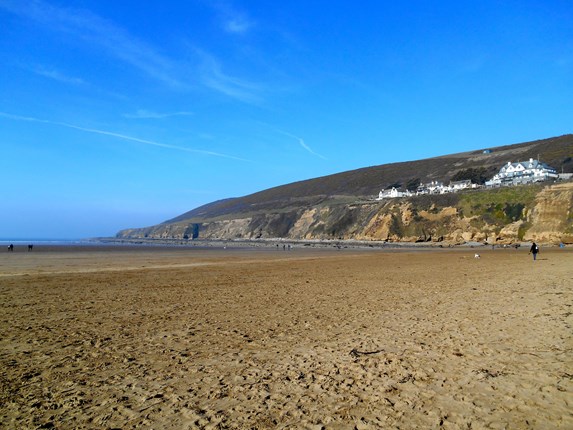 Stroll along the epic stretch of golden sands backed by dunes at Saunton beach.


2. CROYDE


Just around the corner from Saunton, is Croyde. Croyde is a wide open bay between Saunton and Woolacombe. One of the most popular beaches in North Devon with no surprise, as it's not only beautiful, but offers some of the best surf in the area! This bay is also home to big wave surfer 
Andrew Cotton. 
Due to its popularity with the locals and tourists, you can bring your dogs to Crodye in the shoulder months of the peak season, but not between 1st May to 30th September. Parking is available in the village so why not enjoy a bite to eat or a coffee in one of the pubs or coffee houses? Or why not head for the National Trust Car Park at 
Baggy Point
 which offers a nice easy walk - great for families and dogs! The views are truly amazing, and if you are lucky, you may even spot some seals.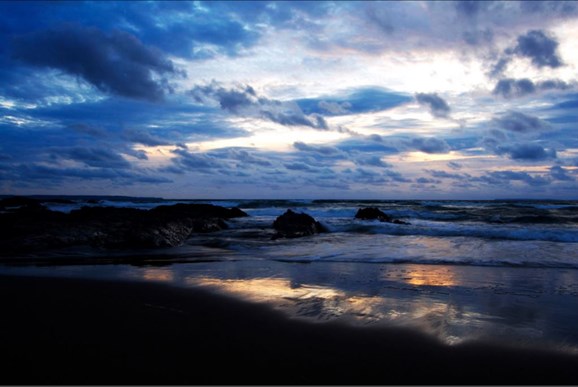 Catch a stunning sunset at Croyde. Phot
o copyright of Stuart Webster a
nd licenced for reuse under the Creative Commons licence.


3. PUTSBOROUGH


Putsborough is another one of North Devon's large sandy beaches. This stretch of beach is 2 miles long, and you can walk along it to Woolacombe beach. This beach offers great facilities and parking close to the beach. Best of all, Putsborough is dog-friendly all year. There is a section of the beach (to the left as you walk down the stairs on to the beach) that is zoned off to dogs, but with 2 miles of beach there is more than enough space for you and your four-legged friends to explore. 

4. WOOLACOMBE

Woolacombe is a golden sandy beach located in an Area of Outstanding Natural Beauty where dogs are welcome. Though there are some rules and restrictions that you need to be made aware of especially during peak season (May to September when the beaches are full). This beach is very popular with surfers, families and dog owners, as there is a lot on offer in terms of restaurants and entertainment in the village of Woolacombe. There are a number of eateries that cater for all in the heart of Woolacombe. It is also home to Marisco's, a club that has been going since 1967.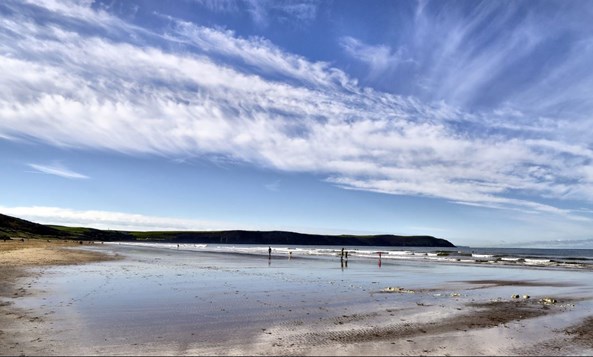 Beautiful calm waves and blue sky at Woolacombe. Photo copyright of Jayt74 and licenced for reuse under the Creative Commons licence.


5. WESTWARD HO!


Westward Ho! is another stunning vast sandy beach which is backed by a pebble ridge, and also hugely popular with surfers! Dogs are allowed on the North end of the beach between sandy mere bridge and the estuary, and at low tide the beach is enormous, which gives your dogs the opportunity for a good run. Even at high tide, the grassland on the other side of the ridge provides a great area for them to explore. Parking can be found just off the entrance to Westward Ho! beach.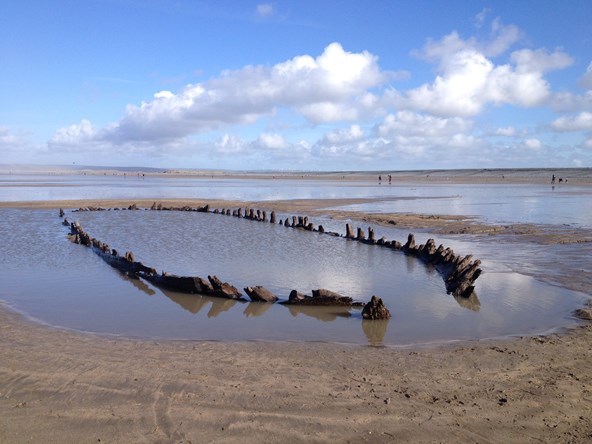 Discover the old shipwreck on Westward Ho! beach n
ear Sea Dreams, Devon.
All words by Jade Ryan of Millbrook Estate, Devon.

Premier Cottages has over 400 gorgeous dog-friendly cottages - many of which pull out all the stops to make your dog feel completely welcome, providing them with their own dedicated welcome pack! You can view them all by clicking here.