For many, the idea of a holiday is automatically associated with abroad. Yet holidaying in our home country has been a popular money saving option since long before the recession. There's a variety of other reasons to enjoy a cottage break right here in the UK this year - protecting the environment is one at the top of many people's lists!

If you're one of the thousands of holidaymakers who is starting to wonder how their holiday impacts on the world around them, here's three simple steps you can take to make your travel more green in 2019!

1. BE WISE WITH YOUR CHOICE OF ACCOMMODATION
Selecting accommodation that is recognised as more sustainable by the Green Tourism Association means you are supporting green tourism and staying somewhere that prioritises sustainability. In many cases going on a self-catering cottage holiday enables you to make more green choices for yourself.
Green holidays used to conjure up images of sandals, composting loos and tree-hugging, but these days you can have a 5* holiday with truly green credentials – many Premier Cottages owners have made significant investment in alternative energy solutions and have installed solar PV, biomass boilers, wind turbines and air and ground sourced heat pumps. It's a lot more involved than simply recycling the rubbish and putting in a few low energy light bulbs!  

2. CONSIDER HOW YOU TRAVEL
Avoiding air travel is one of the most obvious ways to reduce your carbon footprint as you travel, but you could take things a little bit further or make them more eco-friendly with some careful consideration.
If you are travelling as part of a larger group, take a coach or train together, arrange car sharing, or better still, investigate travelling under your own steam by exploring some of the UK's excellent walking and cycling routes. We're surrounded by them!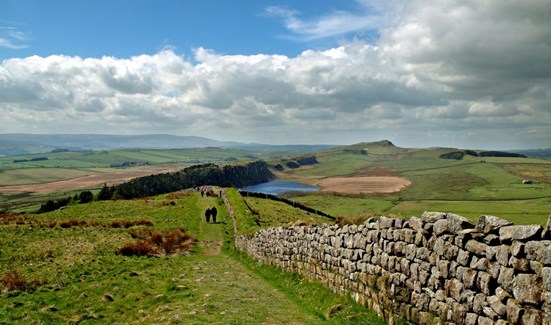 Walking along Hadrian's Wall near Dufton Barn Holidays, Cumbria.

3. CHOOSE GREEN ACTIVITIES

Whether you are camping, glamping, or cosying up in a cottage, your green thinking shouldn't stop when you arrive on your holiday!
Take the same energy saving steps you would at home – turning off lights and switches, choosing public transport, not walking around in a T-shirt in colder months with the heating on full blast! If you do plan to venture out into the countryside – endeavour to leave it as you found it, remembering not to disturb nature or litter.
Self-catering allows you to make greener choices when it comes to eating, but there's no reason why you can't enjoy eating as part of a sustainable holiday too. The Sustainable Restaurant Association lists restaurants in the UK and Ireland who have been recognised for their commitment to sustainability and the fabulous thing is that the list keeps getting longer! 


Feeling inspired? A large percentage of Premier Cottages' members also have excellent eco credentials - click here to view our gorgeous 'Green Getaways' collection and start exploring our gorgeous green cottages today!