Next Post
Dazzling lights, mulled wine, a fabulous holiday atmosphere and wonderful gifts – Christmas is coming, and one of the best things about the holiday season is wrapping up in your woollies, and heading to the traditional Christmas markets with your favourites.

So if you are searching for that perfect festive getaway, we have rounded up the best UK Christmas markets located close to Premier Cottages properties to inspire you:
1. WINCHESTER CHRISTMAS MARKET - (Thursday 21 November – Sunday 22 December 2019)
Highly regarded in not only Britain but Europe too, Winchester's Christmas market is a euphoric yuletide experience sure to have you singing carols and tacking up the tinsel in no time. Located in the gorgeous grounds of the magnificent Winchester Cathedral, the market circles around a beautiful open-air ice rink, situated at the centre of the stalls. Inspired by the traditional German markets, there are over 100 chalets to discover with an enormous amount and variety of food and gifts available to purchase. If this sounds like your cuppa tea, then why not browse our luxury holiday cottages in Hampshire, or take a look at some of our New Forest holiday cottages?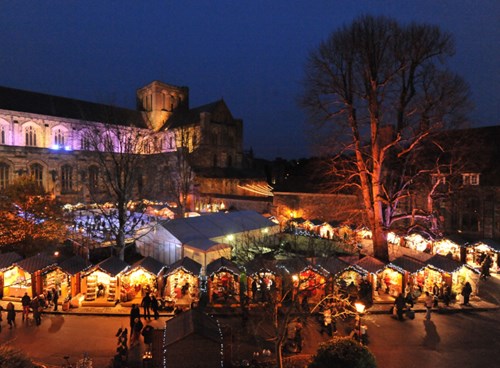 Get into the Christmas spirit at Winchester Christmas Market, one of the best Christmas Markets in Europe because of its unique location.
2. PADSTOW CHRISTMAS FESTIVAL - (Thursday 5 – Sunday 8 December 2019)
Padstow Christmas Festival is one of the UK's largest, bringing together some of the best well-renowned chefs to celebrate Christmas in a spectacular water setting, including Rick Stein, Paul Ainsworth and Nathan Outlaw. Two marquees are set up on the quayside, where free cooking demonstrations by more than 60 chefs take place, while the market itself has plenty of locally produced food and drink, from Seville marmalade from the Da Bara Bakery in Truro and free-range duck from the Cornish Duck Co, to mouth-watering Christmas puddings by Figgy's. If this is right up your street, then we have a variety of luxury holiday cottages within easy reach of Padstow (some are even located in Padstow itself), which provide the perfect base for exploring this wonderful Christmas market by the sea. If you don't mind travelling a little further, then there are also over 150 holiday cottages in Cornwall on our website.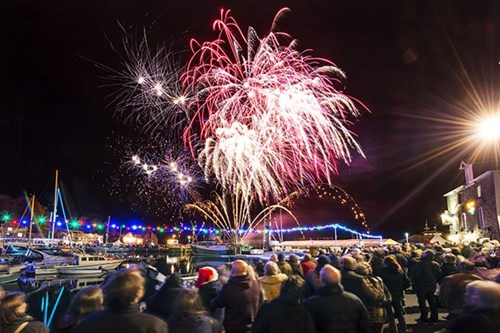 Look at the twinkling Christmas lights at the Padstow Christmas Festival - one of the largest in the UK and fabulous for the whole family.
3. BATH CHRISTMAS MARKET - (Thursday 28 November – Sunday 15 December 2019)
Bath Christmas Market is a excellent choice if you are into gorgeous, locally made Christmas gifts. The cobbled streets around the Roman Baths are a stunning setting for this 150-strong stall market. The majority of what's for sale, from jewellery to homeware and artwork, is made in the South West so if you shop here, local means local. Keep an eye out for herringbone throws from Cornish company Atlantic Blankets, gold stacking rings by Frome jeweller Christina Oswin and stoneware ceramics by Dorset-based potter Sarah Jane Handmade. Don't leave without sampling the hog roast or picking up a Christmas pudding from Plum Duff and Stuff! If you are tempted to pay a visit to the Bath Christmas Market this year, then we have 18 gorgeous cottages to choose from in Somerset – that are located near to the stunning city – we also have holiday cottages in Gloucestershire, and even luxury cottages in Wiltshire, so the choice is all yours!

Amble through the award-winning Bath Christmas Market, with its romantic atmosphere and over 150 sparkling chalets. Photo copyright M Etherington and licensed for reuse under this Creative Commons Licence.
4. EXETER CATHEDRAL CHRISTMAS MARKET – (Saturday 16 November – Thursday 19 December 2019)
Exeter Cathedral Christmas Market has taken place on Exeter Cathedral Green for 7 years, and features a food village north of the Cathedral with offerings such as mulled apple gin sold by the team behind The Oddfellows gastropub, and delicious Mexican street food by ever so popular That's Nacho Burrito! This hub of Christmas activity also offers more craft and gift stalls than ever, with several new chalets shared on a fortnightly rotation by wonderful local businesses. Free carol services also take place in the cathedral – so you might want to try to plan your present shopping trip to coincide with one! If you want to visit or even re-visit the Exeter Cathedral Christmas Market this year, then our Devon holiday cottages provide the perfect base. If you want to get as close as you can to the Christmas action, then we recommend having a gander at our holiday cottages close to Exeter.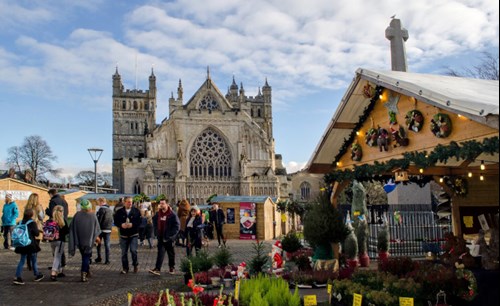 Treat the family or your loved one to a festive treat at the Exeter Cathedral Christmas Market on Cathedral Green. Photo copyright Alison Day and licensed for reuse under this Creative Commons Licence.
5. ST NICHOLAS FAIR, YORK - (Thursday 14 November – Sunday 22 December 2019)
St Nicholas Fair in York is the best Christmas market in the UK for everything from chestnuts roasting in the Yorkshire Barn in St Sampson's Square, to mulled wine and brandy-laced hot chocolate at Thor's Tipi – a charming pop-up bar with crackling log fires. Head to the Yorkshire Yuletide Village in the Shambles Market area to find stalls selling items such as scented soaps, hand-blown glass and copper jewellery, hosted by makers collective Made in Yorkshire. If you are on the hunt for traditional Christmas gifts, make sure to amble amongst the stunning alpine chalets on Parliament Street! The nearest cottages we have to York are York Old Brewery, located in the heart of medieval York – a superb choice if being close to the centre is what you are after! We also have a range of luxury holiday cottages in Yorkshire that you may find suitable for a festive break.
6. STRATFORD UPON AVON VICTORIAN CHRISTMAS MARKET - (Friday 6 December – Sunday 8 December 2019)
The Stratford-upon-Avon Victorian Christmas Market is a themed event with stallholders dressed in fabulous Victorian costumes. From late November, you can enjoy the town's wonderful Christmas lights and markets – if you stay in a Christmas holiday cottage, which might also be decorated for the festive season – perfect for a pre-Christmas break! During the Christmas market, entertainment fills throughout the town, with a stage in Henley Street hosting a wonderful range of performances. A traditional funfair will also be there, which includes a carousel situated at the bottom of Wood Street and on the Rother Street market area. If you want to be in the centre of the action, then we recommend having a look at Heritage Mews in Stratford-upon-Avon, a luxury holiday cottage located in the charming medieval market town. Alternatively, we also have holiday cottages situated in gorgeous locations near to Stratford-upon-Avon, including Oxfordshire, Gloucestershire, Worcestershire etc.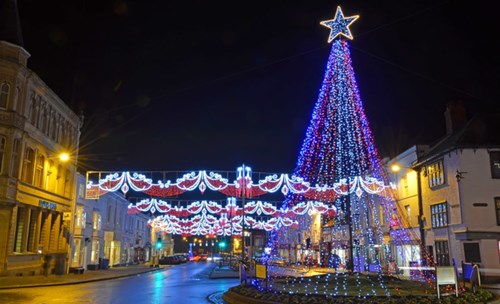 See one of the finest in the UK lights display in Stratford over the Christmas period.
7. EDINBURGH CHRISTMAS MARKET - Saturday 9 November – Sunday 22 December (St Enoch Square) & Sunday 24 November – Sunday 29 December (George Square)
Edinburgh's Christmas is a spectacular, six-week season of festive entertainment, situated in the heart of the bustling city centre. This gorgeous market is amongst the best Christmas Markets in Europe, and its spread over three levels in Princes Street Gardens. It can get very busy at the weekend, so if you would prefer to visit at a much better time, then you might want to head there on a weekday instead! You can visit Edinburgh Christmas Market from one of our luxury holiday cottages in Scotland, or if you are willing to venture further afield, then you could also consider staying in a holiday home in Northumberland.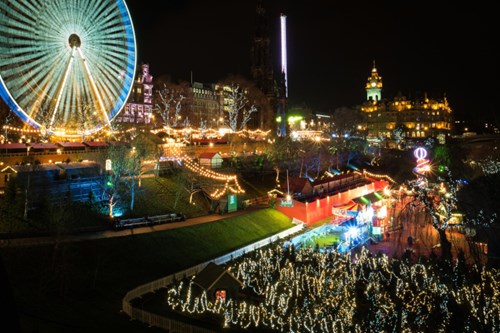 Be dazzled by the lights at Edinburgh Christmas Market. Photo copyright of Alasdair and licensed for reuse under this Creative Commons Licence.
If your Christmas and New Year's Eve plans aren't set in stone quite yet, then why not choose one of Premier Cottages 4* & 5* cottages as your festive venue? That way, you can browse one of the UK's best Christmas markets to your heart's content…
From spacious retreats with room for the whole family (including the dog!) to cosy, romantic boltholes for two, you'll find just the right setting for your Christmas & New Year's Eve.
Click here for Christmas Cottages.