Next Post
A Christmas getaway is just the ticket to warm you up and recharge your batteries. Whether you want to explore beautiful snow covered countryside, or snuggle up in front of the fire, a cosy winter cottage break provides the perfect opportunity to get away from it all.
Therefore, we are giving you several fantastic reasons to book a cottage break this Christmas:
1. NOTHING BEATS RAISING A TOAST IN A PRIVATE HOT TUB
Winter is an ideal time to unwind under the skies in the glorious Great British countryside - and even though a hot tub is a fantastic addition to a holiday at any time of year, there is something extra special about slipping into its comforting depths when it's nippy outside. A hot tub in the snow will keep you warm while the snow falls around you, or a toasty spot to do a bit of late-night stargazing and not feel the chill! With over 250 luxurious cottages with hot tubs to choose from, why not indulge in an extra bit of luxury by booking a hot tub hideaway for your next break?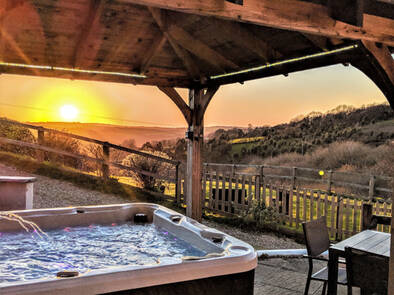 Sink into bubbling bliss in a luxury cottage with a hot tub. Photo: Tree Barn at Kernock Cottages, Cornwall. 
2. COSY COTTAGES WITH REAL FIRES
Whether you are popping on a film, playing some well-known board games, or overindulging on the mince pies, the cosy crackle and welcoming heat of a real fire really add to the feel of a relaxing evening. With Christmas decorations added to the mix, you might even feel a part of one of your favourite Christmas classics! We have 566 gorgeous cottages with real fires - all of which provide an 'All Inclusive' guarantee, meaning that even the logs are included! So you can unwind with family, friends, or the one you love, in a cottage with everything you need to make this Christmas extra special.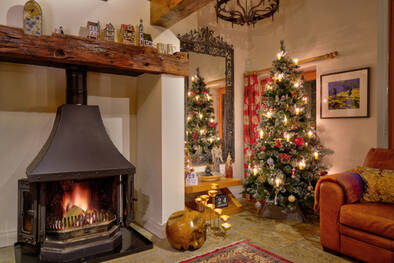 Make this winter magical by booking a cosy Christmas cottage. Photo: The Hyning Estate, Cumbria.
3. YOU CAN BOOK A COTTAGE WITH SPA TREATMENTS AVAILABLE
Booking a cottage that offers on site spa treatments means you can relax in tranquillity with a calming massage, refreshing beauty treatment, or other soothing spa treatment, without even having to leave your luxury home from home. So if this sounds like your 'cup of tea', or you want to feel refreshed for the year ahead, then we have over 400 holiday cottages with sumptuous spa treatments available, just waiting to for you to explore on our website...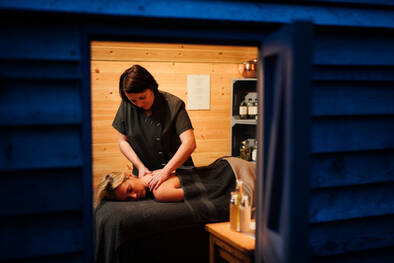 Treat yourself to some well-earned rest and relaxation this winter by booking a cottage with spa treatments available. Photo: Scolton Country Cottages and Spa, Pembrokeshire.
4. AN OPPORTUNITY TO SHAKE THINGS UP BY HIRING A PRIVATE CHEF, OR BOOK A COTTAGE WITH WALKABLE FINE DINING
With present buying, works dos, Christmas and New Year's, it's no doubt that winter is one of the busiest seasons. Therefore, if you are planning a winter break, you may want to take a break from it all, especially cooking, so why not hire a private chef or eat out instead. Booking a cottage with a private chef available is perfect for couples looking to getaway for a bit of R&R, and adds a romantic touch to your break – think candles, your favourite dish, a bottle of red... You won't have to do a thing! Premier Cottages has over 170 cottages within walking distance of a fine dining restaurant, and nearly 500 cottages with a pub within walking distance - the choice is all yours.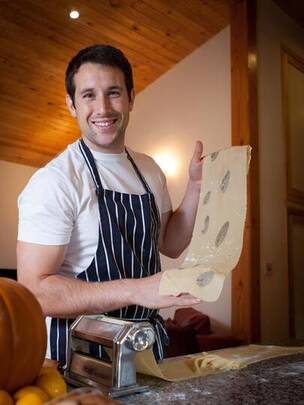 Private chef Benedict Quinn. Photo: Rosehill Lodges, Cornwall. 
5. NATURE IS MORE BEAUTIFUL THAN EVER
The British Isles are blessed with an almost endless number of excellent rambling routes, and there is no better time than winter to wrap up warm, throw on some wellies and go for a brisk countryside walk. From the mighty mountains of Wales to the spectacular Cornish coast – our glorious landscape is begging to be explored by foot! Blow away the cobwebs along blustery coastal paths, or take a frosty Christmas or Boxing Day stroll. It is the perfect time to admire the glistening stillness of frost-encrusted winter landscapes, sunrises and sunsets, wherever you may be. If you're craving your next walking adventure, then take a look at our cottages within 10 miles of a National Trail.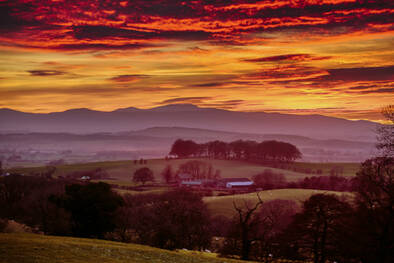 Take in the beauty of the UK from a holiday cottage in the beautiful British countryside this winter. 
6. NO DOG BANS ON BEACHES
With summer long gone, the season means most of the country's beaches are open to our four-legged family members, and there is plenty of gorgeous dog-friendly beaches in the UK to choose from, so you're spoilt for choice. We have a variety of luxury dog-friendly cottages within less than a mile of a beach, so you won't even have to travel far to see some of Britain's most stunning seascapes. Or if you're willing to venture a bit further afield, you might want to take a look at our dog-friendly holiday cottages within 10 miles of a beach. With endless beauty on our doorstep, and no reason not to take the dog on your next break, why not make the most of winter and treat your doggo to a getaway at a luxury pet friendly cottage?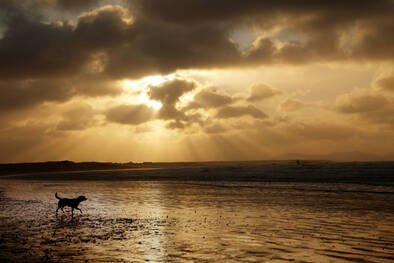 Roam glorious empty beaches with your pooch in tow from a holiday cottage near a beach. 
7. FABULOUS UK CHRISTMAS MARKETS
From the streets of Winchester, York and Bath, to wild and wonderful Wales, staying in a cottage from mid December all the way up until the beginning of January, means you can explore the best Christmas markets the UK has to offer. Sip mulled wine, get your ice skates on, or eat a frankfurter under twinkling lights... Who says you have to go abroad to find a fabulously festive market?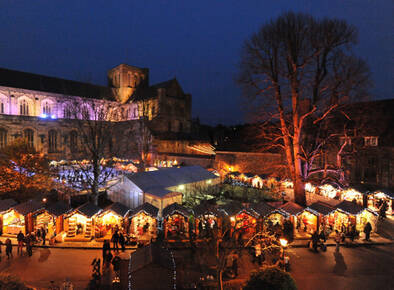 Soak up the festive atmosphere at one of the best Christmas markets in Europe. 
Whether you're looking to bring the whole family together, or a cosy Christmas retreat for two, our 4* and 5* holiday cottages have everything you need to make this winter extra special.
Click here for Christmas Cottages.