Next Post
Northumberland and Durham are the last two English counties before you reach Scotland. Despite the northerly location, they are both surprisingly easy to get to, whether you choose to travel by road, rail or air.
If you're planning on travelling to Northumberland and/or Durham sometime soon, then here's a great local's guide to these glorious parts of the North: 


NORTHUMBERLAND
Knocking on Scotland's door and famed for its rich history, Northumberland boasts some of the wildest and most beautiful countryside in the UK. Retrace ancient footsteps along Hadrian's Wall and a myriad of enchanting castles - or perhaps even the footsteps of Harry Potter at Alnwick Castle, a.k.a. Hogwarts to all the Potterheads out there! The Northumberland National Park offers superb opportunities for those who enjoy rock climbing, walking and cycling, and its weather-worn aspect turns it into a natural adventure playground for people of all physical abilities. But it's not just rolling moors and ancient woodland. If you go to the right places, you can uncover evidence of the region's turbulent history. At night, the National Park offers some of the darkest skies in the UK. With little or no artificial lighting, the views of the night sky can be truly spectacular - its starry splendour provides the perfect backdrop to a romantic break! The Cawfields Dark Sky Discovery Site offers stargazing events throughout the year. There's also plenty of opportunity to spot wildlife, as the Park is home to some of the UK's rarest indigenous species, such as the Red Squirrel, Black Grouse and the elusive Curlew.

Catch the gorgeous Northern Lights over Northumberland. Photograph copyright of HerdiePhoto and licenced for reuse under the Creative Commons licence.


The Hadrian's Wall Path will give you fantastic views and take you along the wall built to keep the Scottish in Scotland or the English in England, depending on which side you're standing! Turf Knowe in the Beamish Valley will bring you to some of the lesser-known sites, such as the fascinating remains of Bronze Age burial sites.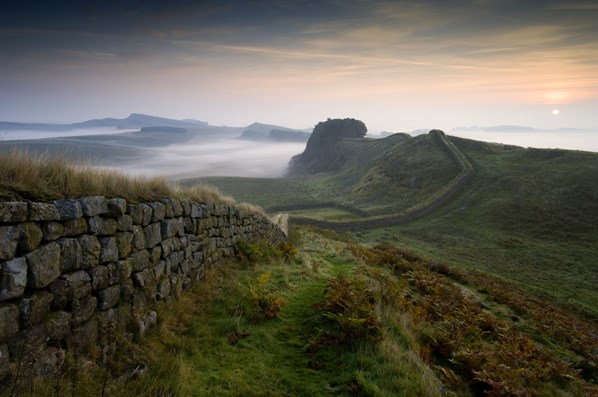 Take in the atmospheric views on the Hadrian's Wall Path.


BEACHES AND BARGAINS
With so many attractions to discover, you're sure to find something that the whole family will enjoy. If sea, sun and sand are in the agenda, then be sure not to overlook Northumberland's 30 miles of beautiful beaches. As well as the beaches there are castles dotted along the coast. Bamburgh Castle has recently been voted as one of the finest in the UK. You'll also find an array of seaside town and villages, where you can sample the local fish and chips or watch the sun go down with a well-deserved pint of local ale.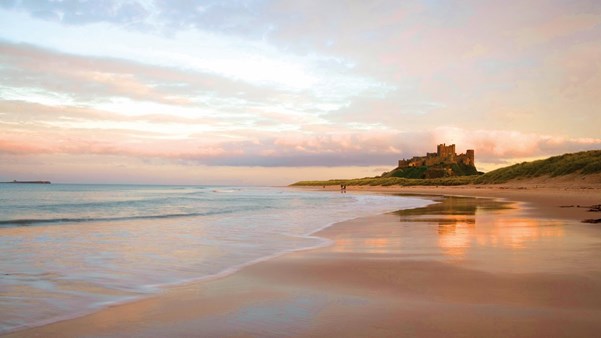 Discover one of the most beautiful stretches of England's shoreline in Northumberland.


SHOPPING
There's good shopping to be had in Northumberland. In addition to the usual High Street shops, the county is home to a wide range of antique shops, quirky boutiques and markets selling local produce and crafts. Alnwick acts as home to Barter Books, one of the biggest second-hand bookshops in the country. It's housed in an old railway station, making it even more quirky and unique. In June and July, the Northumberland Art Tour takes place, giving visitors the chance to meet local artists and buy pieces of art directly from them.

DURHAM
Durham is a breathtaking mix of coast and countryside. The Durham Dales offer a chance to leave city life behind you and explore idyllic landscapes of moors, hills and valleys. You'll also find tiny villages and market towns tucked away, with tearooms and pubs serving some exceptionally good local dishes. There are countless points of interest, but it's well worth making the journey to High Force, which is the UK's tallest unbroken waterfall. This dramatic fall crashes 21 metres down into the River Tees.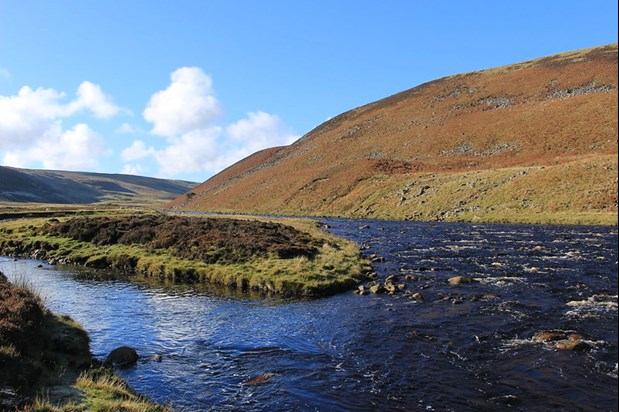 Photo copyright of and licenced for reuse under this Creative Commons Licence.


EATING OUT IN DURHAM
Although you might be in a self-catering cottage, there's plenty of opportunity to eat out and sample some of the local cuisine. The county has an enormous selection of cafes, tea rooms, bars and restaurants. Whether you're eating a hearty meal in a cosy pub on the Dales or indulging in some fine dining in a town or city, it's worth looking out for the Taste Durham mark of quality. These awards are given by Visit England, and assure visitors of the quality of the food, the cleanliness of the premises and that ingredients have been sourced locally wherever possible.


BEAUTIFUL BEACHES
If you get to Durham in the summer, the beaches here are just as spectacular as those in Northumberland. You'll find everything from secluded coves to vast, sandy beaches, many of which have achieved the coveted Blue Flag award in recognition of their cleanliness and safety. This makes them ideal for families with little ones. Runswick Bay in Whitby is great for fossil hunting, while Amble Links Beach comes with its own medieval monastery and nearby Alnwick Castle. The castle was used as Hogwarts in the early Harry Potter films and Robin Hood Prince of Thieves.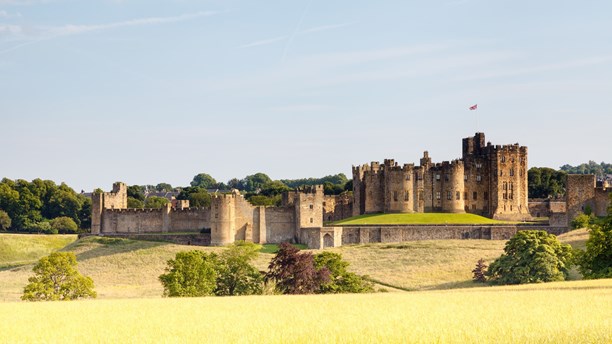 Experience living history at Alnwick Castle, the turreted fortress used as a location in the Harry Potter films and Robin Hood Prince of Thieves.
Premier Cottages has variety of luxury holiday cottages spread across Northumberland and Durham, which you can view by clicking here.