One of the most scenic (and lengthy!) coastal walks in Cornwall is the stretch of the North coast between Bedruthan and Padstow. With spectacular views of clear turquoise waters and sprawling sandy beaches, what's not to love?

So if you love a good landscape and an invigorating walk, or you are just searching a great way to enjoy some well-deserved "me-time", this walk is just the ticket:
START AT BEDRUTHAN STEPS BEACH
Start at Bedruthan Steps at the National Trust Car park. If you're a member of the National Trust you just need to validate your card at the ticket machine for free parking. Follow the signs to the Steps and from there turn right and keep walking! Bedruthan Steps is a beautiful beach but it's not for the faint-hearted. You have to climb down 120 steps to the beach which is not a safe swimming beach. However, at low tide, you can walk all the way along the beach in between all the islands.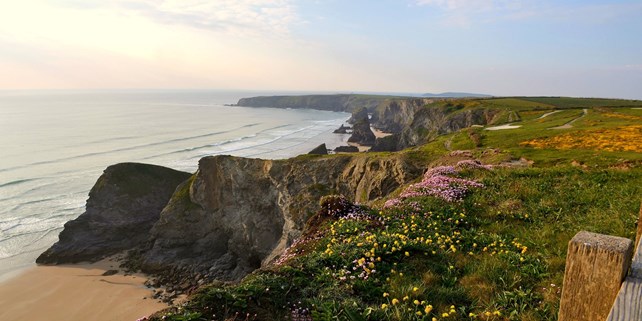 Take in beautiful views of Bedruthan Steps Beach. Photo copyright of Robert Pittman and licenced for reuse under this Creative Commons Licence. 

VIEWS TO NEWQUAY
From Bedruthan, head North to Park Head where you get a view all the way back to Newquay. The sea just keeps on going and on a clear blue day is just stunning. The coast is dotted with all sorts of little coves but as you get closer to Porthcothan Bay Beach it opens up to an expanse of sand. Treyarnon Bay Beach and Constantine Bay are equally as good. Most beaches have loo and café facilities and ample parking - the only exception is Constantine where parking is limited.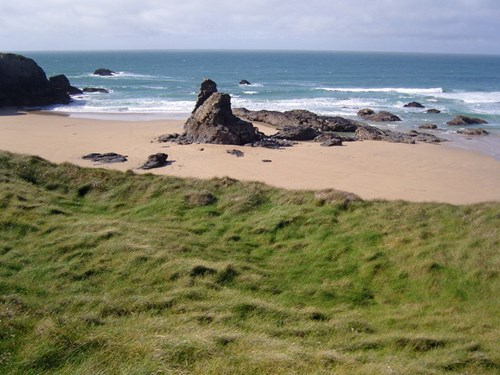 Photo copyright of Val Pollard and licensed for reuse under this Creative Commons Licence.

BOOBY'S BAY TO TREVOSE HEAD
The jaggedy coastline continues along Booby's Bay up to Trevose Head. Booby's is great for a bit of rock pooling at low tide. At this point, you have a cheat option if your legs are tired! You can cut out Trevose Head lighthouse and walk straight across to Trevose and Harlyn or you can hotfoot it around the headland. You also get to see the RNLI lifeboat station which is tucked into the cliffside. The launch looks more like a log flume and there are some beautiful Art Deco houses tucked into the cliffs too.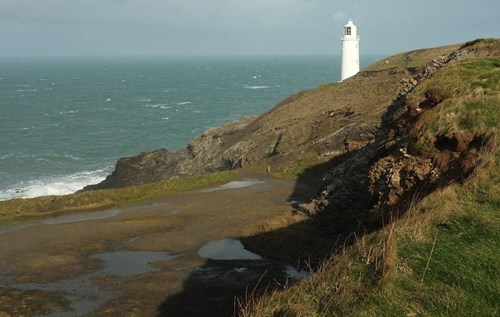 Photo copyright of Derek Harper and licensed for reuse under this Creative Commons Licence.
TREVOSE AND MOTHER IVEY'S BAY
Take your trainers off whilst walking along Trevose and Mother Ivey's Bay for a little paddle too and just enjoy soaking up the sounds of the sea. It's easy to forget what an amazing place we live in sometimes. Its non-stop beaches for a while as you meander through Trevone, Gunver head and up to Stepper Point. There is another cheat point from Trevone as you can again cut out the headland and head straight across to Padstow - depends how hungry you are! There is a little tea garden on the headland too if you are in need of a Cornish Cream Tea and energy boost for the final stint.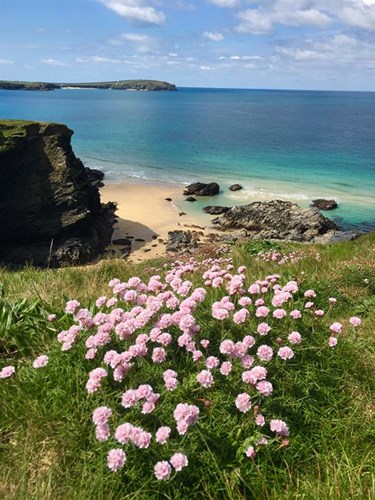 Admire the view from Trevone to Trevose on your stroll along the South West Coast Path.
ALMOST THERE
The final stint is down the estuary and into Padstow, admiring Daymer Bay (which looks stunning during sunset) and Rock as you go. Afterwards, you can treat yourself to a Roskilly's ice cream at the end, and/or a fritter around the beautiful shops of Padstow. Shopping without the hassle of parking!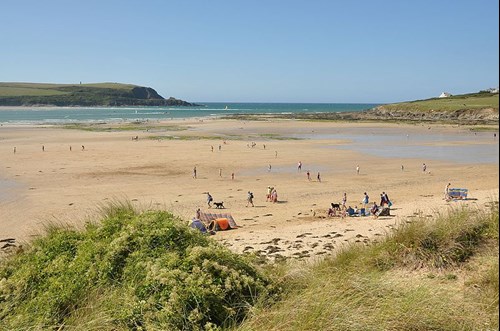 Don't forget to stop and take a minute to gaze at the gorgeous view of sand and sea at Daymer Bay.
If you do decide to challenge yourself to this fantastic walk, it takes around 5 hours in total, but if you are a bit of a landscape fanatic, and/or just enjoy a good stomp, then it's perfect for you. Let us know how you get on!

All words kindly supplied by Pippa Storey of the lovely Glynn Barton Cottages, Cornwall. 
Premier Cottages has over 150 luxury UK holiday cottages in Cornwall, which you can browse here.