As winter approaches, what could be better than snuggling up with your loved one in a cosy holiday cottage, far away from the outside world?
Here are five reasons to book a romantic cottage break this winter:
1. HOLIDAY COTTAGES ARE EXTRA COSY IN WINTER
When it is drizzly and dark outside, nothing beats cosying up with your partner in a luxurious romantic holiday cottage. The stormy weather in the UK throughout the colder months doesn't connote romance by any means, but when you imagine enjoying a glass of wine or two by a crackling real fire, or tucking into some hearty gastro pub-grub in a cosy local pub, a romantic cottage holiday with you're the one you love seems rather appealing. Cottages also look beautiful in the snow, so if you're lucky enough to be on holiday when it starts to fall, you might just feel like you're in a scene from 'The Holiday'. So why not crack open the bottle of fizz or pour a mug of hot fresh coffee, and let the stresses of the season (in other words Christmas!) melt away…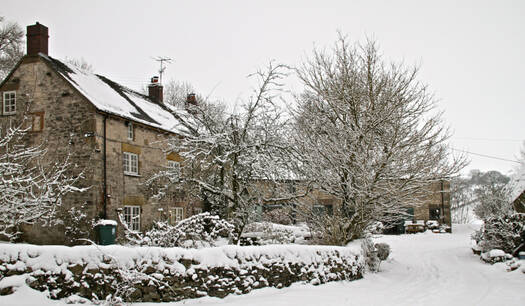 Re-live one of your favourite festive classics by booking a cosy holiday cottage this winter.
2. IT'S THE PERFECT EXCUSE FOR SOME QUALITY TIME
Escaping the hustle and bustle of everyday life to spend quality time as a couple can be just what the doctor ordered, and even if it isn't that far from home, a change of scenery alongside delightful countryside walks in the crisp, fresh air and happy evenings by a cosy real fire can do you the world of good. If the allure of a wintry landscape doesn't tempt you enough, why not indulge in an evening drinking champagne in a bubbling hot tub. What's more, we also have a variety of luxury cottages with indoor swimming pools, saunas and even spa treatments, so you won't have to leave the house for a rejuvenating experience!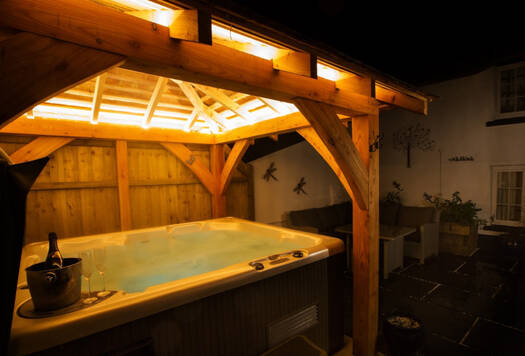 Soak the stresses of the day away in your own private hot tub this winter and a book a cottage from our 'Hot Tub Heaven' collection. 
3. THE SCENERY IN WINTER IS SPECTACULAR
The beautiful Great British countryside is possibly at its best during the winter months, offering fluffy frosty landscapes and quiet country vistas that make for a delightfully romantic getaway, just the two of you. From sleighing in the snow in Scotland to visiting frost dusted cathedrals and glorious National Trust properties, to embracing the elements on a coastal walk along the South West Coast Path, you are sure to find a romantic experience in the UK suited to you. AND... luxury holiday cottages in some of the UK's most spectacular locations can be booked at tempting prices!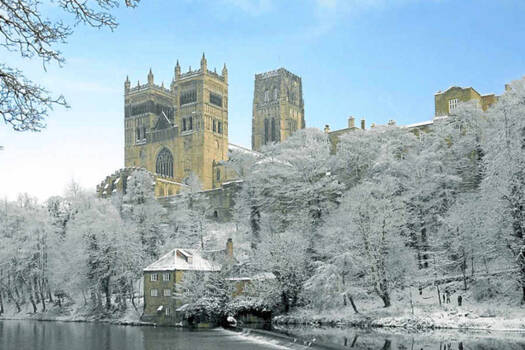 Make it a winter to remember with a wander around the beautiful Durham Cathedral. 
4. YOU CAN DO ROMANTIC WINTER ACTIVITIES
From romantic home-cooked meals, ice-skating and pantomimes, to Christmas markets and winter shopping, the opportunities to enjoy a romantic experience with the one you love are endless when you are staying in a luxury cottage in the UK. Ice-skating is a romantic idea for a date, where you can bond over the ice over which one of you is more of an ice-skating champ. If this requires too much energy for you then why not take in the festive atmosphere at one the UK's top Christmas markets? There are plenty located near to Premier Cottages! Another romantic activity you can try is visiting the theatre, or have a browse around quaint little boutiques in a stunning city, such as York or Bath. If you'd rather stay closer to home, you can arrange your own 'stay at home' date night, and buy all the ingredients to cook one of your favourite home-cooked meals. Over 300 of our luxury cottages even offer the option to hire a private chef, so you can relax and look forward to a romantic meal with your favourite person, knowing that everything is taken care of. Bliss!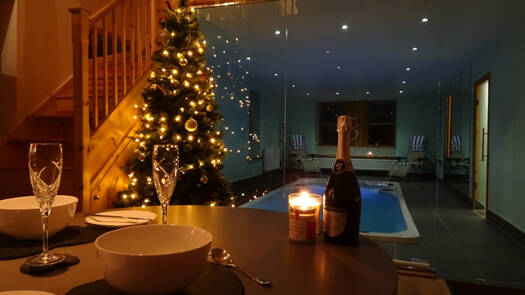 Indulge in good food and good company on your romantic break away together.
5. YOU CAN BE SPONTANEOUS! 
If you have no plans for next weekend, or even for the next few days, then why not consider spoiling your special someone with a spontaneous luxury getaway to spend some well-deserved quality time together. If you aren't tied to the school holidays, or if it's just the two of you, then it's much easier to plan a last-minute getaway… so what's stopping you packing up the car and setting off on a fabulous winter break? From December-March, the skies at sunrise and sunset glow with the most stunning hues, and British holiday destinations are empty and peaceful, offering you a fantastic choice of locations. There's also some wonderful off-peak special offers…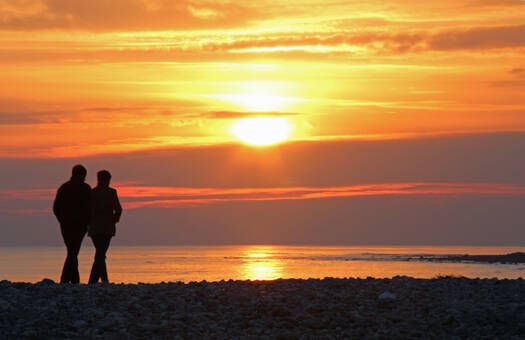 Wrap up in your winter woollies and head to the coast for a walk with your partner - you could even book a cottage within walking distance of a beach. 
If this blog has helped inspire you to book a cosy romantic retreat for two, our selection of 4* and 5* holiday cottages includes everything you need to plan a special winter staycation!
Click here to view some gorgeous cosy Christmas cottages.