The quiet area of Henham Park has started to hum with activity again as it prepares for forty thousand budding festival-goers to descend upon the site on the 13th of July. The festival has expanded yet again this year and produced its best line up yet. Latitude festival offers a unique range of entertainment and as a result has been voted Best Family Festival in the past. This year I can see the Father of the classic family of four eagerly anticipating Dara Ó Briain's comedy set on Friday night while his daughter runs off to watch The 1975 in the Obelisk Arena [the main stage to you and me]. Mum may be excited to see Alive Levine and clan perform their side-splitting reading of Belinda Blinks - a book they have turned into a hugely successful podcast: My Dad Wrote a Porno. Meanwhile, their son is enjoying the range of DJs performing in The Woods. Latitude festival really does have something for everyone.
The backdrop is the gorgeous Suffolk countryside. The festival is about 10 minutes from the famous seaside town of Southwold which boasts a range of award-winning pubs and restaurants offering everything from French cuisine to fresh local fish. It's iconic beach huts and pier make this town a very worthwhile visit before the festival. It is also host to many B&Bs and hotels for those who do not wish to endure the requirement of camping that comes with a festival.
For those that are camping Latitude supplies a campsite for everyone. There is the noisy Yellow Field for those that wish to be just 5 minutes walk from the inside of the festival. This field provides a fully immersed experience. There is an area for those with camper vans - a slightly more sophisticated way to enjoy the festival. There is also a quiet family camping area which unsurprisingly contains much nicer facilities for Mum, Dad and Granny. And finally, do not forget the all-important VIP camping area 'Pink Moon' for those who have that extra bit of cash to splash for a loo that flushes. All of these camping areas are just a short walk from The Village where one can stock up on anything from beer to bacon to battery - so you do not miss out on those crucial photos. If it isn't posted on Facebook, did it even really happen?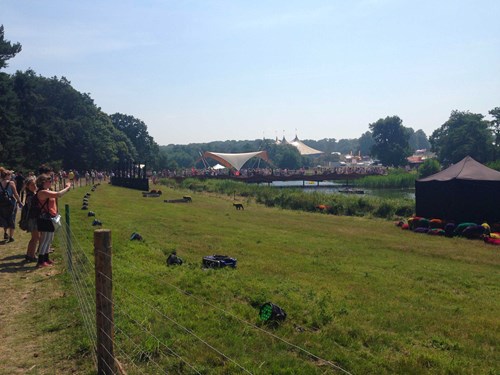 Inside the festival itself, Latitude has over 17 stages including the Theatre and the Lake Stage. Within minutes you can find yourself going from watching an innovative dance project to admiring the coloured sheep to flying down a zip line. Expect to see the weird and wonderful while strolling the large site. You may be lucky enough to stumble upon a secret set during your walk. The now-famous local boy, Ed Sheeran, who started his festival career at Latitude many moons ago did several intimate secret sets at the festival's tenth anniversary. Only the passers-by were lucky enough to experience this exclusive moment. The kids' area of Latitude is really second to none and entertains children for hours on end. They can watch cool science experiments, make their own instruments and play in a safe and magical environment. They even host school trips for those that are unlucky enough to still be in term-time in mid July. Hundreds of traders set up shop in Latitude for a weekend of selling delicious and innovative food and drink. You can also hire a Concierge who will purchase your drinks and return them to you so you do not have to lose that front row position you fought so hard to get for your favourite band. All traders at Latitude use biodegradable packaging made from recycled materials as part of the festival's aim to be green.
Latitude works closely with the not-for-profit organisation Julie's Bicycle which is improving the sustainability of the creative industries. Latitude uses bio-diesel to reduce it's carbon footprint and is aiming to use bio-diesel for 15% of all energy used this year. Car sharing is promoted to reduce the number of vehicles that travel to the site to reduce emissions (travel makes up three quarters of the festival's total emissions). This is done via their partner Liftshare. Volunteers are provided by Green Machine to encourage recycling within the festival and support the sustainability team. They also provide incentives, for example you can collect £5 if you fill up a recycling bag with plastic bottles!
For those of us who struggle to conjure up the £200 for a weekend ticket, Latitude will give you free entrance in return for a few hours volunteering. This system also allows Latitude to support charities. For example, they employ Oxfam to recruit volunteers to steward the festival. Oxfam's stewarding system raises the charity £1 million every year and this money goes straight into supporting the life-changing work Oxfam does globally. Their current mission is a continuation of their 2016 campaign Stand As One which saw the charity supporting refugees. Now Oxfam is working hard to reunite families who lost each other in the refugee process.
One of the highlights of this year's Latitude is guaranteed to be the brand new area, The SpeakEasy. This will be the new home of debate, discussion, authors and poetry. In the past Latitude has brought in iconic poets such as Carol Ann Duffy to speak at the festival and with the revamp of the stage, this year will certainly deliver another year of interesting discussions. On the Sunday you can expect a large crowd to listen to Simon Armitage deliver his new collection The Unaccompanied.
Latitude is so different from any other festival and is definitely worth a visit if you have the time to spare. It is also the perfect 'starter-festival' for those who are anxious about attending such a large spectacle as a music festival. Why not combine the experience with a holiday away to give you the recuperation time a marathon like this requires?
All words and photographs by Jane Morelli of Corner Farm Barn, Huntingfield, Suffolk. You can view all of our properties in Suffolk by clicking here. You can learn more about Latitude Festival by clicking here.