We are thrilled to announce 10 Premier Cottages Members have been awarded the coveted VisitEngland ROSE award this year.
The ROSE award (Recognition Of Service Excellence) is given out to 100 establishments each year. Now in their seventh year, VisitEngland focuses on recognising accommodation providers across England who give the best customer experience to their guests, regardless of their star rating, style or type of accommodation. This year 45 self-catering properties won the award, with 10 of those being Premier Cottages members. Meaning now, since its inception 60 Premier Cottages members have received the ROSE award. 
This year's award winners are: 
Hoste Barn, Norfolk 
Paul and Sian Everden, doctors with a passion for garden design and renovation, helped build, design and put everything into the creation of Hoste Barn.
This beautiful Norfolk threshing barn sits in the breathtaking landscaped gardens and grounds of the 17th century wool merchant's manor house. Within the unspoilt countryside, this barn has been sympathetically restored, maintaining all its vernacular past whilst incorporating a variety of modern features. Perfectly situated for exploration of the North Norfolk coast, the Norfolk Broads and the cathedral city of Norwich, there's something for the whole family to enjoy!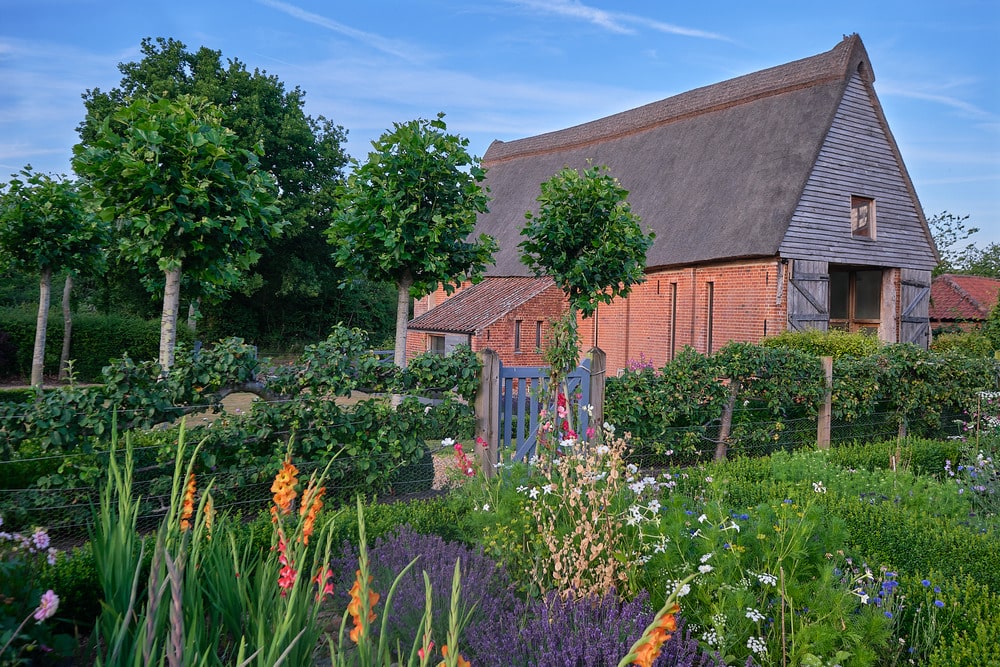 Stunning Norfolk threshing barn sat amongst the landscaped gardens.
Miller's Hill, Breamish Valley, Northumberland
Peter and Michele Moralee bought Breamish Valley Cottages in 1993 after 25 years spent farming at North Charlton. Responsible for the interior design of the cottages, Michele ensures both luxury and comfort. 
Located in Northumberland, at the foot of the breathtaking Cheviot Hills, this spacious holiday cottage offers the perfect tranquil retreat for families or friends looking for luxury. Once an old farm steading, Miller's Hill still boasts its original beams throughout its enormous sitting room, whilst its north and south-facing windows showcase the stunning countryside views. With its cosy fire and outdoor hot tub, you can enjoy your stay no matter the weather!
With 12 cottages in total, sleeping a range of 2-8 guests, check out other cottages in the Breamish Valley Cottages collection.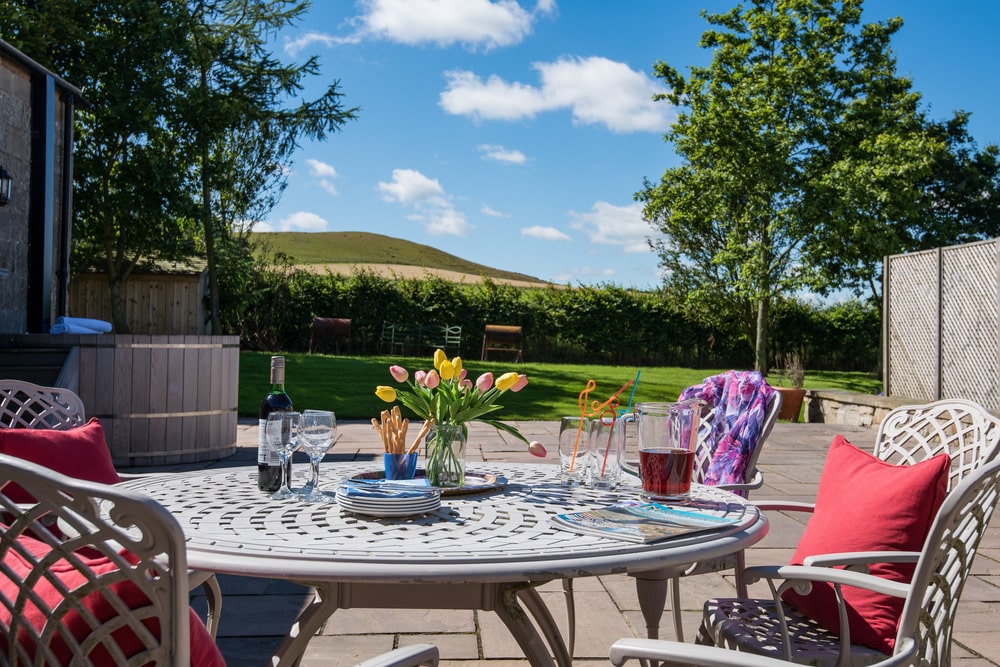 Breamish Valley Cottages amongst the Cheviot Hills
The Pele Tower, Killington Hall, Cumbria
Ann and Andy Newbold moved into Killington Hall in 2003. Following a decade of restoration work, the pair were ready to open their doors and welcome guests into their beautiful cottage, The Pele Tower. 
This luxurious, delicately restored 14th century tower, sits on the edge of the Yorkshire Dales National Park offering a unique and relaxing retreat. Unwind with home-made treats, found within your welcome hamper, or gaze out across the Middleton and Barbon fells. The tranquil outdoor space offers a great vision of the local wildlife, with infinity glass surrounding a decked platform highlighting the stream below.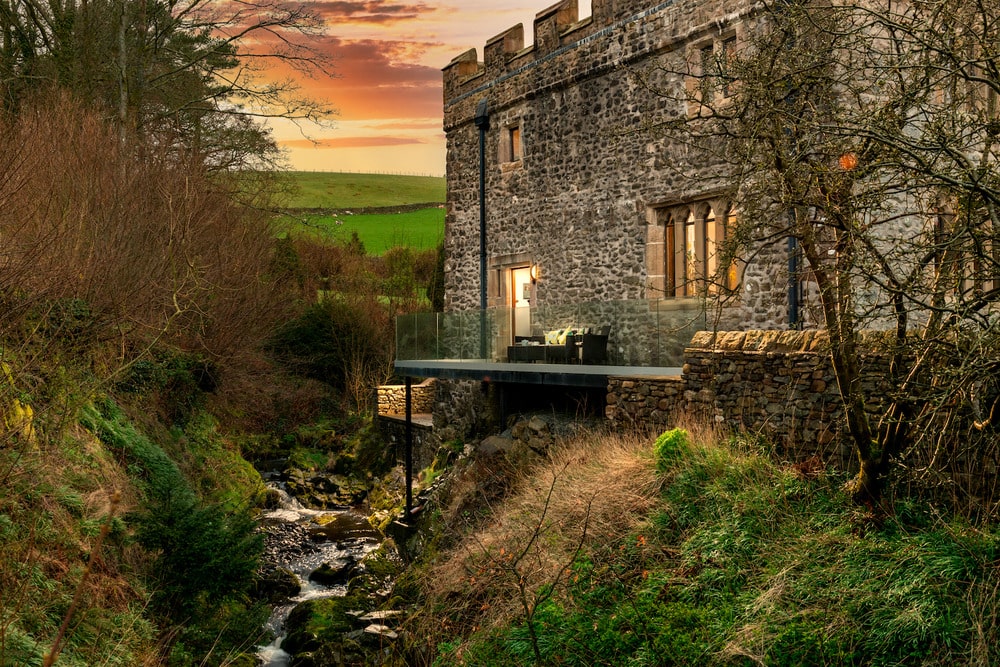 Pele Tower as seen at Dusk.
Piran Cottage, Lambriggan Court, Cornwall
Fiona and Gary Crossley, with experience in history and hospitality, are in their tenth year running Lambriggan Court. With a love of golf, walks and visiting historic sites, you'll often find them maintaining their three acres of magnificent gardens!
This delightful and spacious cottage, found within the peaceful setting of Cornwall offers the perfect getaway for two. Piran Cottage is a Grade II listed barn conversion, overlooking the courtyard allowing couples peace and comfort whilst still being close to the beach! Relax in the jungle house by the lake in the vast and charming gardens, or kick back next to the wood burner and soak up the rich history of Lambriggan. 
With 5 cottages, sleeping a range of 2-4 guests, check out other cottages in the Lambriggan Court cottage collection.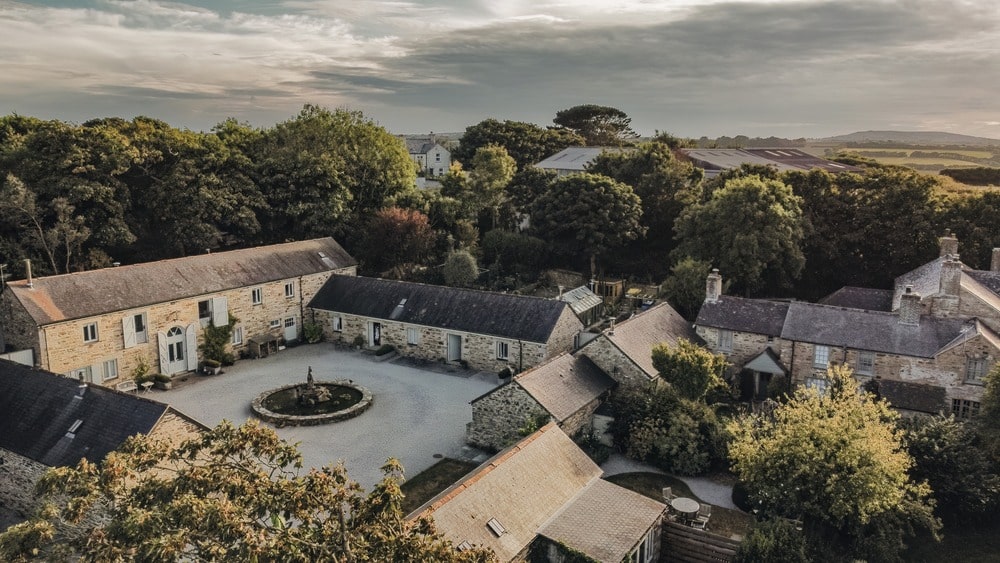 Lambriggan Court - once home to Thomas Tonkin, the inspiration for Grahams 'Poldark.'
The Farmhouse, Compton Pool Farm, Devon
After moving to Marldon at the back end of 2021, Debbie and Paul Plummer are now set on offering their guests the chance to make memories rather than just a place to stay. 
Set in the heart of the South Devon countryside, The Farmhouse sits amongst 14 acres of the warm tranquil valley. Dating back to the 12th Century, this ancient farm has been lovingly converted to include a whole host of modern facilities. Head out to beaches or the National Park of Dartmoor, or stay on site and enjoy the indoor swimming pool, tennis court and games barn!
With 10 cottages in total, sleeping a range of 2-10 guests, check out other cottages in the Compton Pool Farm collection.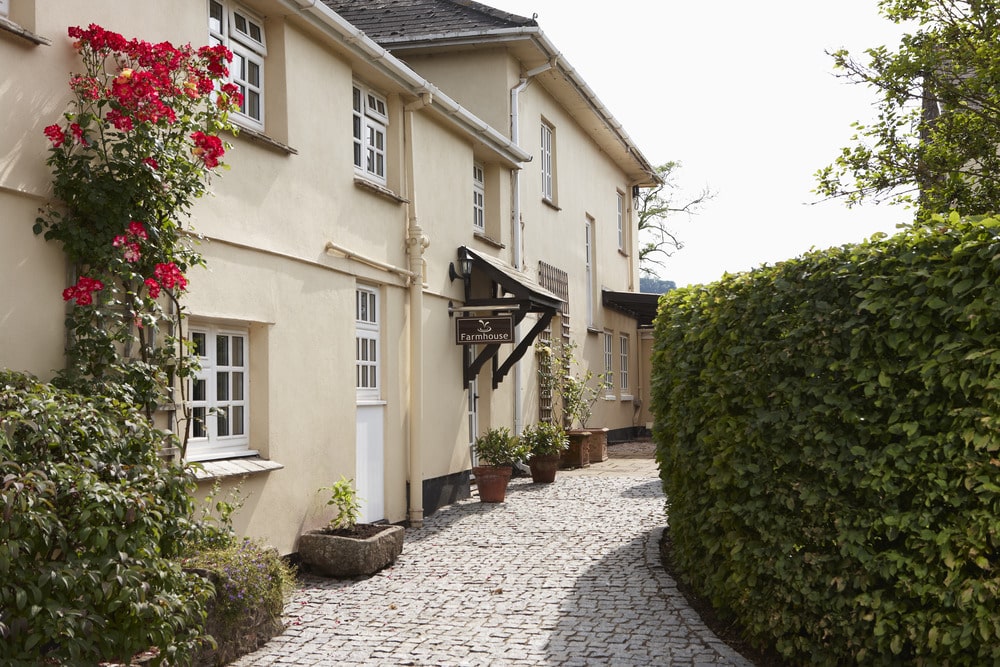 The welcoming entrance to The Farmhouse.
The Great Barn, Kempley Barns, Herefordshire
After moving into a mess of derelict farm buildings 20 years ago, Bob and Petula Skerret set out to lovingly restore the barns to offer sophisticated country accommodation. 
Tucked inside 50 acres of Perry pear orchards, landscaped gardens and wild flower meadows, The Great Barn is a luxury holiday cottage on the Herefordshire border, perfect for a rural escape. With its indoor pool and panoramic views of the rolling countryside, this luxury cottage provides an ideal place to relax. 
With 3 cottages in total, sleeping a range of 2-8 guests, check out other cottages in the Kempley Barns collection.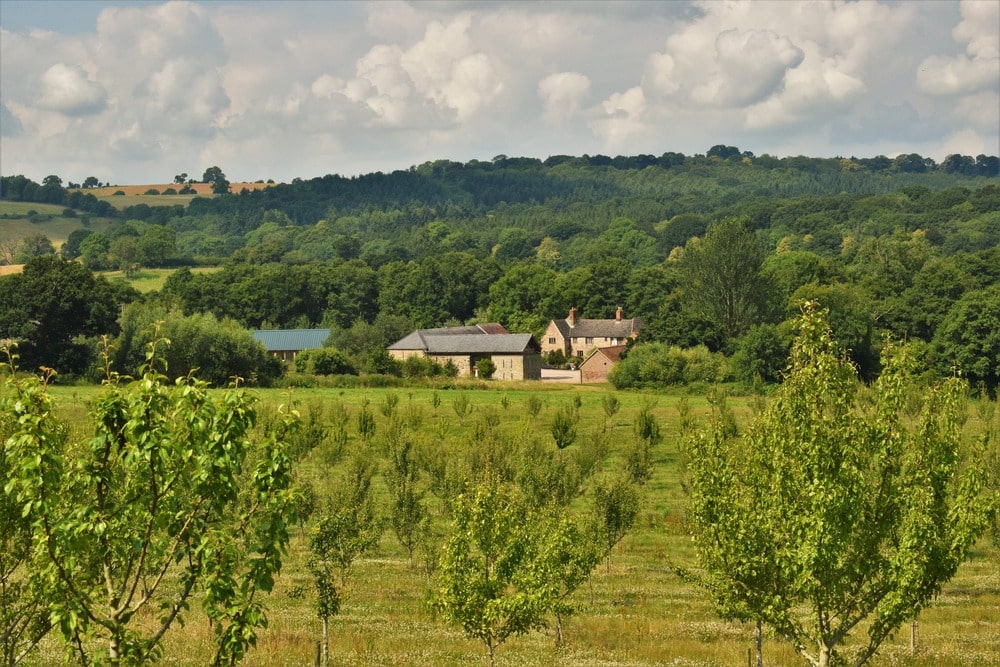 The Great Barn as seen through the orchard. 
The Dairy, Cottage in the Dales, Yorkshire
Andrew and Diane Howarth have been married for 35 years, founding Cottage in the Dales in 2003 as part of their plans to move back North. With several Grade II properties and an eye for detail, they're always hard at work!
Found within the lesser known Yorkshire Dales hamlet of Newbiggin-in-Bishopdale, this spacious and luxurious single storey barn conversion is the ideal place for two, which can also be elegantly adapted for wheelchair users if required. Overlooking a spacious courtyard alongside stunning views across Bishopdale, The Dairy allows for a tranquil retreat. With the 17th century Street Head Inn only 200 metres away, you won't need to travel far for good quality local food!
With 3 cottages in total, sleeping a range of 2-4 guests, check out other cottages in the Cottage in the Dales collection.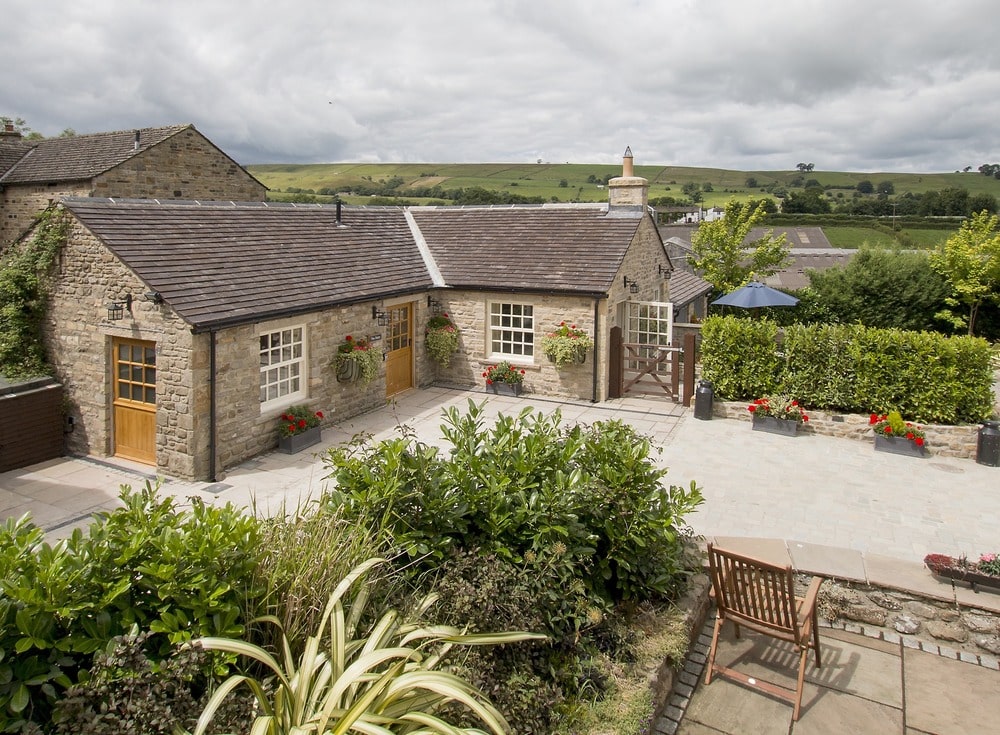 The converted Grade II barn overlooking the courtyard. 
The Folly, Hall Hills, Cumbria
Following a complete conversion of 17th Century derelict barns, Jude Walker opened Hall Hills in 2008, offering a beautiful set of self catering properties. 
Set in the scenic rural location of Dalston, The Folly offers the perfect spot for a romantic getaway for two. A flight of steps takes you to the balcony, overlooking the river Roe, before entering into a spacious interior that is as individual as the name implies. Only a small distance away from Carlisle or Keswick, Hall Hills gives you the perfect opportunity to go out and explore or hide away in style!
With 5 cottages in total, sleeping a range of 2-5 guests, check out other cottages in the Hall Hills collection.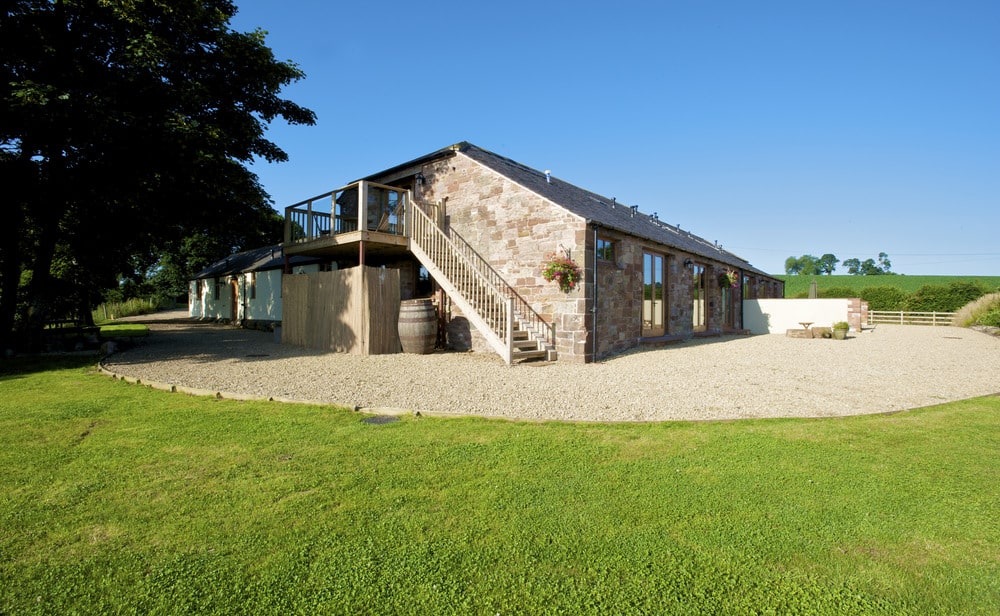 The Folly amongst the other Hall Hill cottages.
Braeburn Barn, Lower Wood Farm Country Cottages, Norfolk
Having lived in Norfolk all her life, Jill Nicholls, the on-site owner, still loves the Norfolk coast and all the beaches it has on offer. 
This splendid barn conversion allows large groups the perfect base to explore. Sat in the countryside, yet still near the sea, Braeburn Barn offers the best of two worlds. Peacefully situated in three acres of grounds bordering the Broads National Park, whilst the Norfolk coast is just two miles away. Boasting an indoor swimming pool and a games room, you don't need to travel far for the fun to begin!
With 8 cottages in total, sleeping a range of 4-9 guests, check out other cottages in the Lower Wood Farm Country Cottages collection.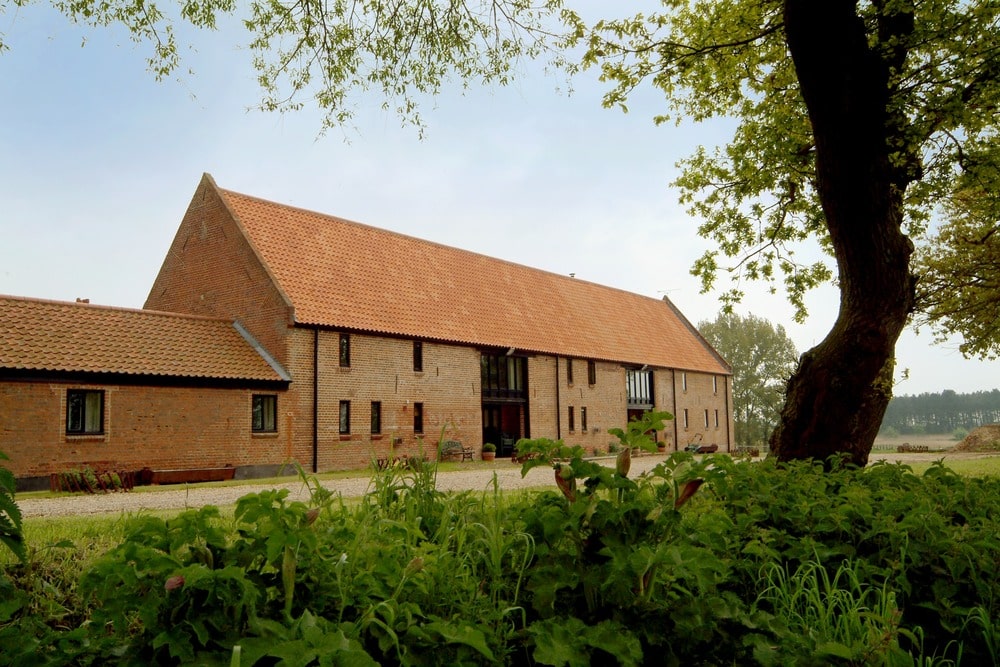 Braeburn Barn sat between both countryside and sea. 
Award-Winning Holiday Cottages
Premier Cottages has an extensive selection of award winning cottages just waiting to be explored. These cottages are the very best in luxury self-catering, provided by passionate professional owners wishing to ensure their guests have the perfect stay.