Initially offered for free to chauffeurs in France to encourage car use (and brand loyalty to their tyres … ), the Michelin Guide has become the holy grail for restaurateurs, and a bible for foodies looking for extraordinary gastronomic experiences. The latest (2023) version of the guide includes 188 UK restaurants that have achieved 1-3 Michelin stars, while 29 were awarded the newest Green (sustainable restaurant) star, and a further 118 the Michelin Bib Gourmand (moderately priced excellence).
At Premier Cottages, we're great believers in excellence, which is why all our cottages are independently graded to at least 4* level by their National Tourist Board. We've provided a handy pairing to highlight some of the Michelin featured restaurants in Devon, and match them with Premier Cottages properties that are within a maximum of 10-15 miles. Many of them are a lot closer – tying for first place in the "Shortest Stagger Home" award in Devon are The Tithe Barn at Ashburton, which is less than half a mile's stroll from Osteria Emilia, and Luckett Farm, which shares a postcode with starred restaurant The Masons Arms in Knowstone. Lucky them!
Why Devon?
After the death of my Father in Law, my then 3-year-old daughter - freshly enrolled in our local C of E preschool and brain buzzing with newly acquired Godly concepts - enquired "if Farmer John has died, does that mean he's gone to Devon?".  An understandable malapropism from a three-year-old trying to grasp abstract concepts who had lived in Cornwall for her entire existence, and a relatable one to the many who regard the largest county in the South of England as a slice of paradise. And Devon certainly delivers on many fronts. It boasts not just one, but two National Parks (Dartmoor and Exmoor, which it shares with Somerset); a full 819 km of stunning coastline, with plentiful beaches (13 of which are classified as Blue Flag, out of only 107 nationally); two UNESCO World Heritage Sites (the Jurassic Coast - in East Devon - which extends into Dorset, and the Cornwall & West Devon Mining Landscape) as well as its very own Riviera; and a mild climate, with some of the highest sunshine hours in the UK. Oh, and an impeccable foodie pedigree.
As a "blow-in" to Cornwall of only 25 years service (my children can claim superior "local" status, having lived here their entire lives), I am obliged - for reasons of continued harmonious residency - to defend my adopted county by insisting jam goes first on a cream tea (obviously not the done thing in Devon, where they regard the cream as akin to butter), and by pooh-poohing the claims of our (only) neighbour to having invented the pasty (which they crimp on top, rather than the Cornish fashion of side-crimping, tsk). However, neighbourly spats aside, there is no denying Devon's rock-solid foodie credentials. The climate and landscape provide ideal conditions for producing top quality food and drink, which in turn has proved a powerful lure for talented chefs. While Cornwall may trump Devon on the Michelin tally (with 44), Devon still achieves a highly respectable 25 Michelin-accredited restaurants, as well as having an abundance of other top-notch eateries all over the county to suit every pocket.
But I digress … the quest here is to match Michelin gongs to fabulous Premier Cottages, so here goes.
Devon - Click here to view the Michelin Restaurant Guide for Devon

Eat - Perched on the western edge of Dartmoor National Park, the Dartmoor Inn offers "crowd pleasing country dining" with creative and mouth-watering use of very local produce. Not far away, in the charming and ancient Stannary and market town of Tavistock – the "Eastern Gateway" to the UNESCO World Heritage Site – you can sample the delights of The Cornish Arms. No, not an error of geography, but so-called because it was the last coaching stop on the way to Cornwall, and today offers impeccable locally sourced food to travellers, locals and visitors alike.
Stay – talking of impeccable, there are three great Premier Cottages sites close by – choose from the Georgian elegance of The Wooladon Estate, set in over 400 acres (which also has its very own award-winning farm shop close by), Devon Country Barns which offers 5 charming dog-friendly barn conversions, each with private hot tub, and the romantic Grade II listed Swallow Barn.

Eat - Travelling north from here towards Hartland Point, a short detour will take you to Woolfardisworthy (careful when entering it into SatNav … there are two in Devon – this one, near Bideford and picture-perfect Clovelly, and another one in Mid Devon between Tiverton and Crediton – and you wouldn't want to miss your lunch!). Also known locally as Woolsery, the village is home to the Farmers Arms (no apostrophe!) with their "plot to plate" ethos. Michelin describes it as "a restored Grade II listed pub, set in a delightful hamlet, a charming place for replenishment and recuperation."
Stay – charming and stylish places for post-prandial recuperation nearby include Town Farm (9m from The Farmers Arms), The Gamekeepers Cottage (sleeps-2 with private hot tub; 13 miles) and – if you're willing to venture to the Dark Side (aka Cornwall) - West Woolley Farm Cottages near Eascott Crimp offers a choice of 6 cottages only 8 miles away.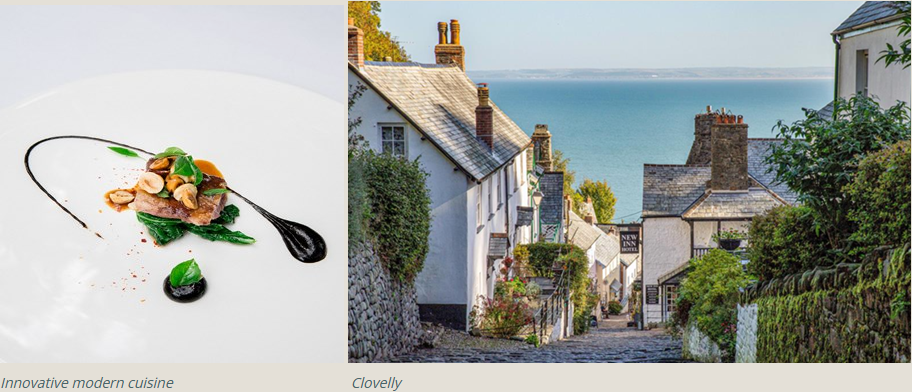 Eat – heading back south over Dartmoor, you will find Edwardian grandeur and sophisticated food served in elegant dining rooms at the starred Gidleigh Park – a luxury treat for a special occasion. Up towards Exmoor, at Knowstone, is The Masons Arms, a postcard-worthy 13th Century thatched inn, which also has a star.
Stay – Lower Elsford Farm has four 5* cottages and an indoor pool, a mere 9 miles away from Gidleigh Park. Luckett Farm in Knowstone shares a postcode with The Masons Arms (so a very short hop), and the lovely South Coombe Country Cottages is only five miles distant.

Eat – south of the National Park you will find another helping of culinary treats. In Ashburton, the Italian-inspired Osteria Emilia is small but perfectly formed for convivial dining at one large communal table, or on one of the bar stools. Simon Hulstone's elegant Elephant in Torquay overlooks the harbour, and has retained a Michelin star since 2006 (I can also personally confirm that the "Ladies' room" features spectacular wallpaper, which in itself is worth a visit …). Historic Dartmouth boasts not one but three Michelin accredited restaurants – The Seahorse for seafood, relaxed fine dining at The Angel, and modern European cooking at Andria.
Stay – Plenty of choices here. The beautiful thatched Tithe Barn at Ashburton is less than half a mile from Osteria Emilia. Sumptuous Vane Tower Penthouse in Torquay has spectacular views over Torquay Marina, and family-friendly Compton Pool Farm near Marldon has 10 immaculate cottages and superb facilities. Larger groups might choose The Shippon near eclectic Totnes, which sleeps 18 guests and boasts two hot tubs. Gitcombe House & Country Cottages has 8 cottages set in 14 acres of beautiful grounds; and Aish Cross – a distinguished Regency Country House – has four cottages with beautiful views over the surrounding AONB.

Eat – East of Exmouth, you come to the UNESCO World Heritage Site of the Jurassic Coast, and the East Devon AONB, famous not only for its abundance of prehistoric remains, but also for lace and carpet making (Honiton and Axminster in particular), fertile red soils, seaside resorts nestling in the shelter of imposing red sandstone and white chalk cliffs, and plentiful fresh produce from both land and sea. They take their food very seriously here, be it local crab or mackerel bought fresh off the beach at Beer and straight to the barbecue, or a sumptuous feast prepared by a skilled local chef. These include Salty Monk at Sidford, Glebe House at Southleigh, and The Tytherleigh Arms near Axminster, as well as Michael Caines' Lympstone Manor overlooking the Exe estuary.
Stay – There's something for all group sizes here. Higher Wiscombe – former home of Hank Marvin, no less - features The Winery, with abundant space for 20+ guests, as well as the spectacular Hank's Annexe (just for two). Pitt Farm Branscombe has four cottages set in 98 acres between Branscombe and Beer. The impressive Cadhay Estate offers a choice of the Tudor Manor House, sleeping 22, or three estate cottages for smaller groups, while Grade II listed Bulverton House has three apartments for couples less than a mile from Sidmouth beach.

"First we eat, then we do everything else" is a quote ascribed to American writer M.F.K. Fisher, who believed that eating well was just one of the "arts of life". She would have fitted in beautifully in Devon, as there is great food to be found in every part of the county, based on fabulous local produce. Premier Cottages has 145 cottages in Devon that can all provide a high quality, welcoming and comfortable base for your foodie adventures, whatever your gastronomic preferences. To view the whole list, just click the link and go to our Search page where you can filter the results by date, group size, location, and also by preference for features such as pools, hot tubs, EV charging, accessibility, dogs welcome (or even no dogs!) and many more.
Bon appetit!
Words by Beth Bailey - Copyright Premier Cottages