Initially offered for free to chauffeurs in France to encourage car use (and brand loyalty to their tyres… ), the Michelin Guide has become the holy grail for restaurateurs, and a bible for foodies looking for extraordinary gastronomic experiences. The latest (2023) version of the guide includes 188 UK restaurants that have achieved 1-3 Michelin stars, while 29 were awarded the newest Green (sustainable restaurant) star, and a further 118 the Michelin Bib Gourmand (moderately priced excellence).
At Premier Cottages, we're great believers in excellence, which is why all our cottages are independently graded to at least 4* level by their National Tourist Board. We've provided a handy pairing to highlight some of the Michelin featured restaurants, and match them with Premier Cottages properties that are within a maximum of 10-15 miles. Many of them are a lot closer. Indeed, Stargazy Cottage in Padstow wins the "shortest stagger home" award, as it is a mere 50 steps from the doors of the fabulous Paul Ainsworth at Number 6. So buckle up for a whistlestop tour of some of these great restaurants, matched with fabulous places to stay while you sample the delights on offer.
Cornwall - Click here to view the Michelin Restaurant Guide for Cornwall
Cornwall has developed a deserved reputation as a foodies' paradise. It's not all about pasties, ice cream and cream teas - with an abundance of great local produce and a mild climate, coupled with brooding landscapes and the longest coastline of any county in Britain (apparently nowhere in Cornwall is more than 17 miles from the sea … ), Cornwall has long been a strong draw for talented chefs looking for a quieter pace of life. This probably explains the fact that 44 of the 333 restaurants on the Michelin lists call the county home, despite it coming 40th out of 44 English counties for population (except during July and August, when it's a bit fuller!).
North Cornwall
Eat - North Cornwall in the Padstow area is not a bad place to start on the Michelin trail, as it features no fewer than 14 Michelin-accredited restaurants in the environs, including some famous names such as Paul Ainsworth (Paul Ainsworth at No. 6) and Rick Stein (The Seafood Restaurant, Rick Stein's Café) in Padstow, and Nathan Outlaw (Outlaw's Kitchen, Outlaw's New Road) in Port Isaac. Rock features large too, with Karrek at the St Enodoc Hotel, The Mariners (Paul Ainsworth again), and The Dining Room all claiming a seat at the table; while Port Gaverne's Pilchards offers a chill maritime vibe, and the St Kew Inn has everything you'd expect to find in the perfect village pub (but with better food!). For the full list of all 14 restaurants in the Padstow area, click here.

Stay - That's enough to keep even the most devoted diner busy for a week or two (depending on whether you do dinner AND lunch), so you'll need somewhere to stay to enjoy this glorious stretch of coast, which offers some of the best surfing beaches in Europe (and glorious coastal walks for the water-shy). Stargazy Cottage is in Padstow proper, but if you want to sample all those restaurants, then great nearby options include Trevorrick Farm Cottages close to Padstow, Rooke Cottages close to Rock and Polzeath, and Tredarrup Farm Holiday Cottages close to Port Isaac.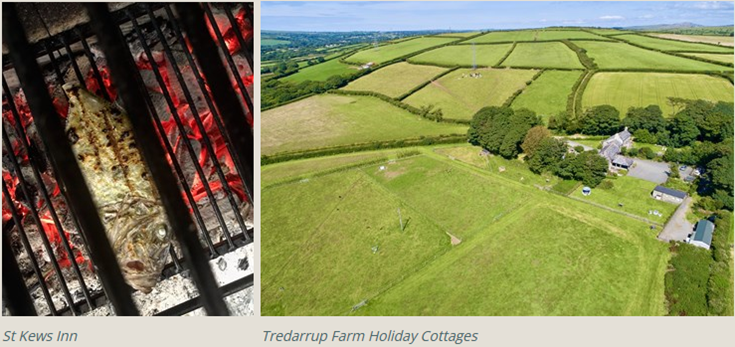 North East Cornwall
Eat - Travelling East from here along the coast you find a land of contrasts. Steeped in Arthurian legend, the North East of Cornwall sports perilous rugged coastline as well as wide sandy beaches, against a backdrop of unspoilt rural landscapes and scenic villages. At picture-perfect Boscastle you can sample the culinary delights of Rocket Store, while Bude tempts with Potters (whose new menu features a playful deep fried Mars bar … ) and Temple. A squeak over the border into the dark side (aka Devon) you will find Woolfardisworthy (pronounced Woolsery, according to local signage… ), and The Farmers Arms (no apostrophe!) with their "plot to plate" ethos. There's no passport control at the border, though (yet!), so we've included it for proximity reasons. For the full list of restaurants in the Bude area, click here.
Stay - Closest to these feasting places (in order of location) are The Old Parlour at Maxworthy, the rather splendid Broomhill Manor in Bude (with 18 cottages, and facilities galore), and West Woolley Farm Cottages near Eastcott Crimp.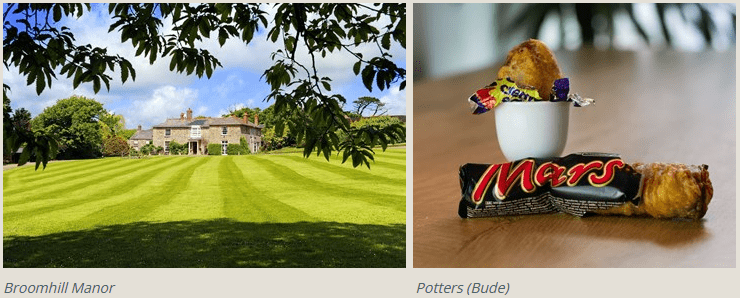 South East Cornwall
Eat - South East Cornwall offers a gentler pace of life than the North Coast, with its charming fishing villages (think Looe and Polperro), and the stunning Rame Peninsula (known as Cornwall's hidden corner), but that doesn't make it a slacker on the food front. Crocadon at St Mellion makes the Green Award list this year, despite having only opened its doors in February (after 5 years in the making – that's what I call slow food), and The Sardine Factory in Looe wins Bib Gourmand ranking for the 5th year. Appleton's and Fitzroy in Fowey also make the list. For the full list of restaurants in Looe, click here.  
Stay - We have some spectacular cottages in this area, and if you're a hot tub fan (after a hard day's eating) – then you're in luck, as this is also the hot tub corner of Cornwall. Kernock Cottages, Old Lanwarnick, East Trenean Farm Cottages and Harper's Cottage all tick the bubbles box. Kernock Cottages and Harper's Cottage are also both less than 15 miles from Plymouth (OK, technically that's cheating, as it is in Devon, but they are the closest Premier Cottages properties to Plymouth, so it would be a shame to miss out … ), with another three Michelin accolade restaurants to try. For the full list of restaurants in Plymouth, click here.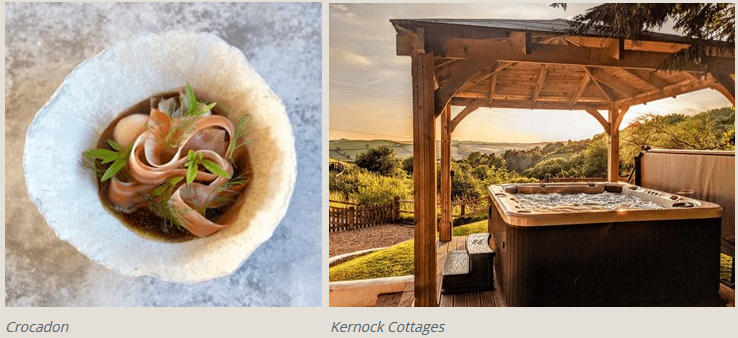 The Fal Estuary
Eat - The Fal Estuary, as well as providing the world's third deepest natural harbour (Falmouth), great sailing, and the National Maritime Museum, is also home to some serious food. Well established names such as Driftwood and The Idle Rocks are joined this year by Culture (new to the Green Award), and picturesque Porthleven – the most southerly port in Great Britain, which was a refuge port in the days of pirates and shipwrecks - features a further two Bib Gourmand restaurants – Kota, and The Square at Porthlevan, so you'll be spoilt for choice. For the full list of restaurants in Falmouth, click here.

Stay - Great places to stay nearby include Fal River Cottage (which – as the name suggests – has fabulous views over the river), Sara's Cottage (which is both beautiful and wheelchair accessible), and Cosawes Barton with its three sleeps-6 barn conversions. The geography of the estuary means it might take longer than you think to get where you're going, but you can add to the adventure and travel by water – there's a ferry every 30 minutes between Falmouth and St Mawes - St Mawes Ferry and also the Falmouth Water Taxi.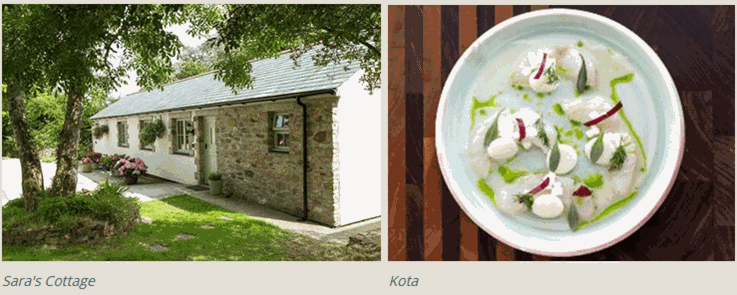 West Cornwall
Eat - The "toe" of Cornwall, stretching out from St Ives Bay to Land's End – the most westerly point of the mainland - is another pocket of plenty for the avid gastronome, adding to the allure of the rugged landscape, spectacular beaches, and strong artistic legacy (so there's plenty to do between courses … ). St Ives boasts Ugly Butterfly, the Porthminster Beach Café and The Dining Room at 27. In Penzance, The Shore is a delight, and don't miss The Gurnard's Head at Zennor. For the full list of restaurants in Penzance, click here. 
Stay - For equally delightful cottages, try the beautiful Boscrowan Farm Cottages, Porthmeor Cottages at Pendeen (including the charmingly-named Clippety Clop), Downs Barn Farm Cottages with sea views from the cottages, or - for larger groups - the imposing Grade II Trewidden House, with its own 15-acres being one of the Great Gardens of Cornwall.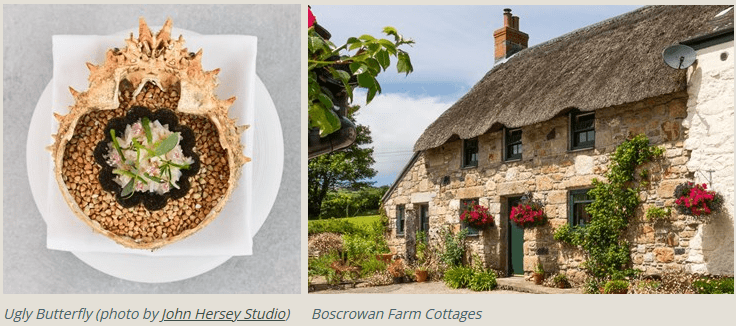 Of course, there's great food to be found all over Cornwall, and we love a Cornish pasty and a cream tea as much as the next man (as long as it's jam first … ). Premier Cottages has 132 cottages in Cornwall that can all provide a high quality, welcoming and comfortable base for your foodie adventures, whatever your gastronomic preferences. To view the whole list, just click the link and go to our Search page, where you can filter the results by date, group size, location, and also by preference for features such as pools, hot tubs, EV charging, accessibility, dogs welcome (or even no dogs!) and many more.
Bon appetit!
Words by Beth Bailey